How good was Iman Shumpert's put-back dunk last night? Newspapers are running full articles about it this morning.
The New York Post has a piece on the dunk and what it meant to the Knicks:
There was 8:26 left in the second quarter last night when Copeland tossed up a 3-pointer and had it bang off the rim. Shumpert was creeping in for the rebound — and more.

The Knicks' swingman grabbed Copeland's miss with his right hand, reached back and slammed the ball through the hoop — the Garden crowd exploding and Shumpert letting out a yell.

"I think I was trying to make a statement," Shumpert said of the highlight jam. "That's the most perfect miss I've had in a long time. It came off so perfect. It was beautiful.

"I wanted to win this game so bad. I knew we needed this game."
And later:
Shumpert's electrifying slam was John Starks "The Dunk"-esque. And according to Anthony, it revved up both the arena and the team.

"Shumpert's dunk was unbelievable. Incredible," Anthony said. "Nobody saw that coming but him. Got the crowd going and got us going."

Shumpert's comeback from a torn ACL, suffered last year in the playoff opener in Miami, took some time. But he now is playing at an elite level. He is active defensively, is making big plays and is confident on the court.

"If it wasn't for [the media], I forgot I tore my ACL," Shumpert said. "I've been waiting my whole life to play in the playoffs."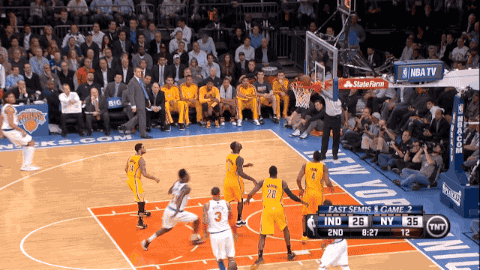 GIF courtesy of @DavidGrann
For breaking news, rumors, exclusive content, and contests sent right to your inbox, sign up here for the Dime Email Newsletter.
Follow Dime Magazine on Twitter
Become a fan of Dime Magazine on Facebook