It's another big week for the Marvel movie universe. First, "The Avengers" DVD/Blu-ray was announced, and now we've got our first official glimpse at "Iron Man 3."
Marvel.com has revealed a brand new piece of concept art for the upcoming threequel. Rendered by Ryan Meinerding, the image shows Robert Downey Jr. as Tony Stark/Iron Man in some sort of action situation.
It's unclear what exactly is happening, but Stark appears to be in mid-transformation into Iron Man as a gaggle of heavily armed — and pissed off-looking — soldiers or security guards take aim with automatic weapons. Has Iron Man gone rogue? Is he being framed for a crime he didn't commit? Are these guys linked to the rumored Iron Patriot? Or Ben Kingsley's unnamed villain?
Check it out the image below. Does it offer any hints about the story line?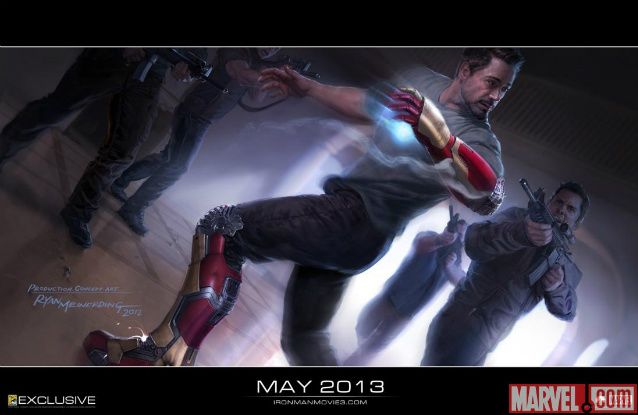 Although none of the film's plot hasn't been revealed, rumors abound that the narrative of "Iron Man 3" will at least partially follow that of the "Extremis" storyline in the comic books, and will likely tie into "The Avengers" at least superficially.
Shane Black ("Kiss Kiss Bang Bang") has taken over directing duties from Jon Favreau. "Iron Man 3" also stars Gwyneth Paltrow, Don Cheadle, Guy Pearce and Rebecca Hall.
Marvel will be giving away posters featuring the artwork at the upcoming San Diego Comic-Con.
It opens May 3, 2013.