Oh my. Paz De La Huerta ("Boardwalk Empire," "Enter the Void") will star in the thriller "Nurse 3D" for Lionsgate, and the brand new first look at the film is mighty interesting.
De La Huerta will play Abby Russell, a hot nurse with a dark side, who punishes dishonest men. In 3D.

The pre-production concept art seen below was shot by Lionsgate"s Chief Marketing Officer Tim Palen, who, according to the press release, "(has) explored the intersection of caretaking and punishment in an ongoing series of fine art photographs of beautiful, fantastical nurses."
Just in case you're unconvinced, this image will serve as chief visual and character inspiration for the film: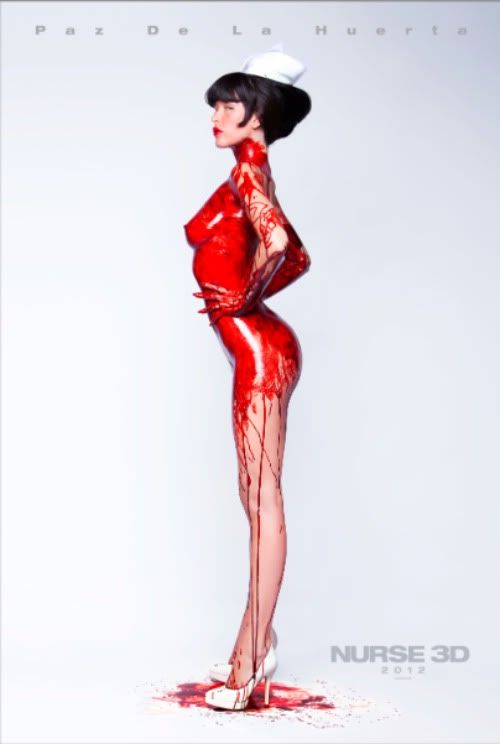 Directed by Douglas Aarniokoski (the upcoming film "The Day"), "Nurse 3D" starts shooting in September in Toronto.
"In his original nurse photos and the fan conversation that ensued, Tim had clearly scratched the surface of a really great concept – the idea of a film noir depiction of a beautiful nurse who uses her sexuality to very severe ends," explained Lionsgate"s Mike Paseornek in a release. "That concept was the perfect germ for this thrilling story, which will be extremely visceral in 3D."
Added Palen, "Paz is the perfect actress for this role and has already been such an inspiration to the whole project. She brings an intensity and a sense of adventure to this role that is so promising." He continued, "We learned from the success of "My Bloody Valentine 3D" that there is a real interest in what 3D filmmaking can add to risqué scenes in R rated films, and this film will deliver those scenes to audiences in a really sophisticated, artful way."
De La Huerta will soon be seen opposite Malin Akerman, Matt Dillon and porn star Sasha Grey in the fact-based "Inferno: A Linda Lovelace Story," about the adult film superstar of the title.