You might need your sunglasses for the latest in a long line of day-glo posters for the upcoming action-thriller-comedy-romp "Spring Breakers," from director Harmony Korine ("Gummo," "Trash Humpers").
Barely legal teen idols Selena Gomez, Vanessa Hudgens, Ashley Benson and Rachel Korine play college students who rob a resaurant in order to finance a particularly lurid vacation, only to land in jail in their bikinis. A corn-rowed pusher named Alien (James Franco) bails them and they head out on the type of drug-fueled, gun-toting, sun-bleached spring break-turned-crime spree that everyone remembers from their college days.
These two new U.K. posters feature all the film's familiar visuals and the classy tagline "Party on beaches." To add to the surreality (although probably unintentionally), Gomez's head looks like it's turning a bit too far on its axis, "Exorcist"-style.
Rapper Gucci Mane also stars, while Skrillex is providing the music. The posters debuted on Empire.
In case you're allergic to to blue, here's the other poster: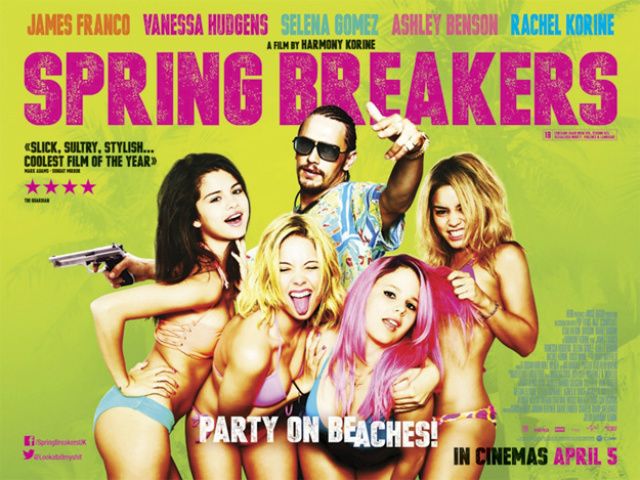 You can see the stars with (slightly) more clothes on at the film's recent French premiere.
"Spring Breakers" opens in L.A. and New York on March 15, before expanding March 22. As you can see, it opens April 5 in the U.K.