It looks like Odinson will once again have his hands full battling scum and villainy in the upcoming Marvel sequel "Thor: The Dark World."
Following the events of last summer's smash hit "The Avengers," the Norse god/Marvel superhero (Chris Hemsworth) will now have to face not only his mischievous adopted brother Loki (Tom Hiddleston), but also a new threat in the form of the Dark Elves, led by Malekith (former "Doctor Who" Christopher Eccleston).
Take a look at the Elves in these brand new set photos which debuted on MTV Splash Page, courtesy of photographer Paul Hennessy. Wearing creepy masks an wielding odd-looking weapons, it's clear that these guys aren't exactly nice elves.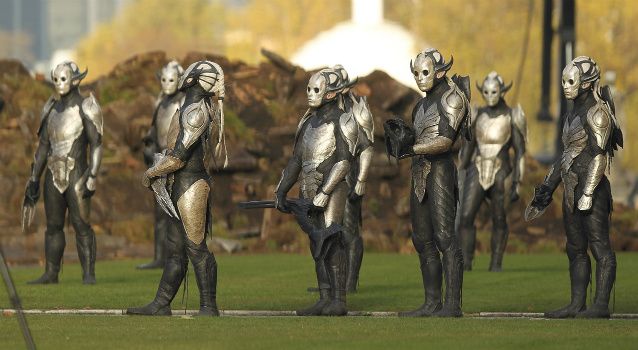 Here's a closer look at Eccleston as Melkith, with an evil crew member thrown in for good measure:
With "Game of Thrones" vet Alan Taylor directing, the fantasy action is sure to be a sight to behold, while THor's "Avengers" buddy Captain America (Chris Evans) could be popping in to help save the day.
The Marvel sequel also stars Natalie Portman, Stellan Skarsgård, Idris Elba, Adewale Akinnuoye-Agbaje, Kat Dennings, Rene Russo and Anthony Hopkins.
"Thor: The Dark World" opens November 8, 2013.