Like most inteligent people I do most of my NFL gambles in the preseason. If your a serious NFL fan like I am, you probably have already laid some action down on week 1A. This is by far the easiest week of the year to absolutely break the bank as Vegas is pretty much in a panic mode knowing that the sharps like me smell blood in the water. My pick's are in CAPITAL STRONG LETTERS
Folks yesterday I went 3-3 which is like a 33% improvement over my record from last year so Im clearly going to ride this heatstreak and DOUBLE DOWN on the rest of the football games this weekend lets take a look at my Fri/Sat/Sun #CAPSLOCKS
FRIDAY'S GAMES
DALLAS at Oakland +2.5
This is a type of game that Jerry Jones and Al Davis use to watch together in the same booth. Just two regular guys hanging out Trading Spaces style coming up with a hilarious plan to ruin Bill Callahans career over a 1 dollar bet.
Dallas has played 100% more preseason games then the Raiders this year and at the end of the game they'll still have played 100% more thats tough ground to make up. Also the Cowboys have studied how the shortest distance between 2 space in a straight line which is advice Darren McFadden could use since he usually leads the league in juke's weeks 1-3 before dislocating his leg.
Miami at JACKSONVILLE +1.5
If you watch the entirety of this game it counts as probable cause for police to search your car +above-ground pool
NEW YORK JETS at Detroit-4.5
Rex Ryan has basically said there are going to be two starters but if you go by Rex's traditional "who does my wife want to sleep with more" talent valuation, youll probably be seeing lots of Geno Smith. Hes got Kevin Pittsnoggles education and Ryan Mallets arm (track marks) so dont expect it to be pretty. Detroits Wheel of Fortune has spun them to bankrupt so their players will buying lots of vowels from ownership, mostly I.O. and U. and we all know how these "athletes" perform if their not collecting checks so itll be ugly on both sides in Detroit. Strong Prediction: Jets kicker Billy Cundiff accidentally kicks a 60yd field goal at the wrong upright as time expires but misses for a narrow New York win.
New England at PHILADELPHIA(-4)
They should play this game in Gainesville since youve got your Tebow, Cooper, Hernandez storylines all intersecting. Not to make assumptions but with the gang stuff, murders, and clubbing/rap music I bet you a million bucks Hernandez uses the N-Word all the time but people were to scared of getting shot or whatever to say anything. This is going to be the debut of Chip Kellys "Hurry Up and Wait" offense but unfortunately Chip didnt count for how slow and lazy the Union Refs would be so expect there to be a few glitches as Mike Carey waits to finish his Virginia Slims before spotting the ball. Belichick might not call a forward pass the entire game though which actually seems taylor-made for Mike Vick, but the Foles/Barkley tandem should do just enough to cover.
CHICAGO at Carolina -3
I call this game "The Catfight" youve got Cutler verse the Panthers showing down on Friday night. For the Bears Trestman, this will be his first game as headcoach outside the CFL. Theres actually not much of a difference between coaching in Canada and the bible belt given both fanbases dont talk English right and smell like french fries and gravy.
Houston at MINNESOTA-1
This is my #CAPSLOCK OF THE WEEK. Perhaps the biggest storiline here is its Christian Ponders 1st preseason game after losing his virginity so he should show ALOT more confidence and a much less awkward release. Toby "Lion"hardt is focused and prepared to take over once Adrian PEDerson gets busted for HGH/Codeine combination giving new meaning to the nickname Purple Jesus. You want a guy who leans into runs, but thats ridiculous folks. Texas might be without there top two runners in Arian Foster and Bent Taint AGAIN, which really bodes well for there regular season.
Kansas City at NEW ORLEANS-3
Andy Reids debut with the Chiefs here. Im leaning towards the Saints since there playing in a dome making it nearly impossible for Reid to judge when he should use timeouts as the halves are coming to a end. Whenever Andy coaches in New Orleans I call him Pavlov on account of everytime the Chiefs have a turnover Andys drools until he gets a beignet making the sidelines in the Superdome very treacherous. Keep your eyes on the Superdome lights if they shut off during this game Andys going to instinctually go into hibernation and the Chiefs could mount a suprising comeback.
ARIZONA at Green Bay-3.5
So many things to cover here on the Cards side- will Peterson take any snaps on offense, will Trayvon Matthieu try to snort the 30 yd line or smoke half the redzone, just how cool will Bruce Arians look in his oldschool hat? The spite all these unknowns we do have a couple clues for GB: They dont have anyone who can take a handoff w/out tearing a hamstring, they do have Vince Young on the team injecting money into the Green Bay economy where 9 out of 10 citizens work as a waiter at Ruby Tuesdays. Still I like the Cards though I shudder to think about the poor Green Bay matron who has to clean Matthieu and Patrick Petersons hotel room (probably with no tip)
SATURDAY
New York Giants at PITTSBURGH (-3)
Whatever you do if you have a kid your allowed to see on the weekends make sure they stay up to watch the postgame QB handshake in this one so you can point out the eye contact and firm grisp. The NFLs better when the Steelers are playing thats a fact. Between Roethilesberger and Gradkowski, the Steelers got your rust-belt QBs all lined up. This is the most important game either of these two teams have played because your next games always the most important in todays NFL. Big Bens not sitting on his laurels or spyder three-wheelers anymore and Gradkowskis about to show the Giants secondary doesnt have a leg to stand on without Chad Jones no offense.
SUNDAY
BUFFALO at Indianapolis (-3.5)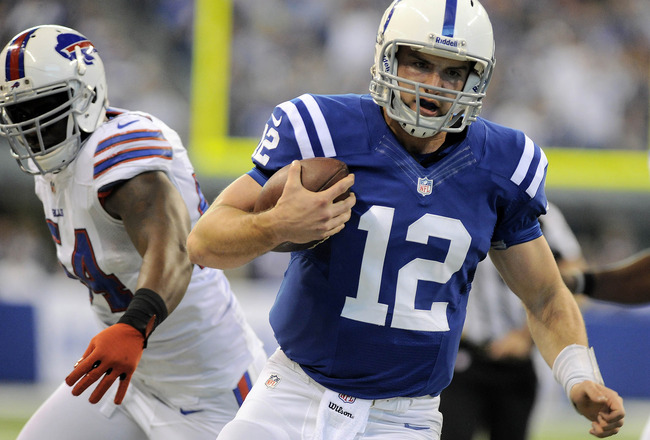 Like I always say, the preseason is a matchup of backup QBs and with Hasselbeck carrying the clipboard in Indy, its almost to fitting that Kevin Kolb is going to get embarassed by a Matt for the second time in as many weeks.