There have been rumors circulating the Internet recently that Packers quarterback Aaron Rodgers may be gay. Though these rumors started out as baseless conjecture from sports blogs wanting to glom onto any scrap of news during a traditionally slow period in sports journalism, Kissing Suzy Kolber has learned that Aaron Rodgers has a previously unknown son from a relationship with musician Frank Zappa.  The man goes by the name Tom Wrigglesworth, and seems to be making a living as a comedian in Great Britain.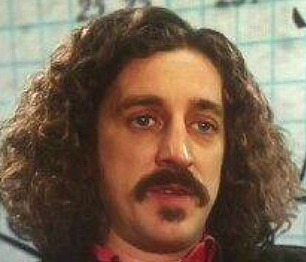 [via]
As expected, Aaron Rodgers and Frank Zappa have remained mum on the subject, though Wrigglesworth seems to be pleased that he's finally found his daddy.
@jasonjwilde @AaronRodgers12 we're all delighted, this side of the pond…
— Tom Wrigglesworth (@tomwriggleswort) March 9, 2014
The jury is still out, however, on whether or not his daddies will be found in the audience during Tom's upcoming comedy tour for a tearful surprise reunion. We can only hope.