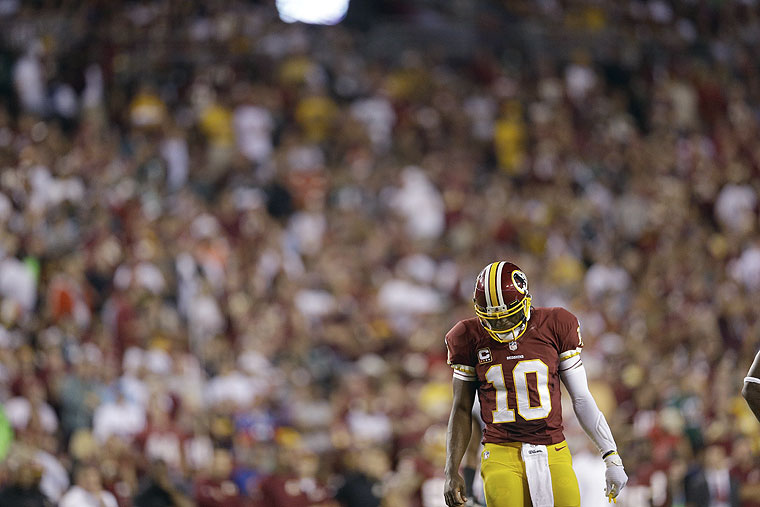 via
Last year: 3-13, DEAD FUCKING LAST IN THE NFC EAST AND EVERY SINGLE DIVISION THAT DIDN'T INCLUDE THE TEXANS.
Acquisitions: DeSean Jackson, Ryan Clark, Jason Hatcher, Colt McCoy, Tracy Porter (yes, that Tracy Porter)
Departures: Josh Morgan (BYE DUMBASS), Adam Carriker, London Fletcher, Josh Wilson
Vegas 2014 win total over/under: 7 1/2
Verdict: UNDER
Fan Forecast, by ME:
I really have no clue what to expect this year. The 2012 season was magical, with RGIII lighting up the league in perhaps one of the most electrifying debut seasons we have seen in this era of the NFL. And then he injures his leg in the opening round of the playoffs, and the next year the team goes 3-13 and generally looks like a sack of shit.

When you're a fan of a football team that hasn't had a good quarterback in a long, long time (Mark Rypien, 1991), watching your guy throw 50-yard touchdown bombs multiple times in a game multiple times in a season is like living in dreamland. The 2012 season had everything. The amazing 76-yard TD run against the Vikings. His 4th down conversion vs. the Giants. Throwing eight touchdowns in five days against the hated Eagles and Cowboys (the latter during a beautiful Thanksgiving Day blowout). And, oh yeah, where the fuck did this Alfred Morris guy come from?

And then the FedEx Field turf ruined RGIII's knee and things returned to normal in DC in 2013: three wins, the head coach publicly clashing with our insane midget owner who eventually runs said coach out of town, and that was that. 2012 still feels like a weird aberration in Redskins history, which is strange for a team with three Super Bowl titles.

So they went out and landed DeSean Jackson, who will hopefully not continue our proud tradition under Dan Snyder of overpaying for locker room cancers. They also have a new coach, who Jon Gruden thinks will immediately turn the Redskins into a contender. THIS GUY, I CALL HIM MY BROTHER, BECAUSE HE IS!

So who the fuck knows what will happen this year. I do know that I have returned to normal levels of pessimism for this team. My prediction: 7-9. RGIII and Morris will be about as good as last year, which was pretty good, but not as good as in 2012 when they were able to overcome their dogshit defense — which, by the way, is still being run by Jim Haslett, a man who has the facial expression of someone who personally endured the Trail of Tears. THAT'S the guy they kept.

And the team's name? Yeah, it's definitely racist. Take it from a fan who is attached to it.