It's the most wonderful time of the year: fantasy playoff season! Yayyyyy! Also, the holidays are upon us, which means that we also get to deal with seasonal affective disorder, depression, and loneliness. So like I said: the most wonderful time of the year!
This week's mailbag tackles (football term) said depression, as well as playoff starts and sits, general dating stuff, adjusting to life when a long-distance relationship shifts to close-distance, Game of Thrones actresses, and more. Read on!
oh captain my captain,
My fantasy question is simple. In an 8 team HTH no ppr, I've got five WRs, only one of which I'm sure I'll be playing. Alshon Jeffery against the sketchy at best Dallas secondary while Brandon Carr is riding Brandon Marshall all day sounds like a great matchup if I've ever seen one.
My other four are Tavon Austin (@Ari), Eric Decker (v Ten), Fitty (vStL), and Torrey Smith (vMin). I have no plans to play Boom or Bust Austin against a decent Arizona defense. Decker exploded against KC, but with only half a point the week before and so many other weapons for peypey to throw to, I'm still not sold. Fitz has been decent as of late, and Smith has a delicious matchup against Minnesota. Pick two.
I like Fitty and Smith. Smith's an easy call, playing at home against the garbage Minnesota defense (5th most fantasy points to wide receivers). Fitzgerald doesn't seem to have the speed he once did, but the Cardinals offense is finally clicking, and Fitty's found the end zone four times in the last three games. It's a reminder that, oh yeah, he's still one of the most talented receivers in the NFL. (Also of note: he burned STL for 80 yards and two 2 TDs in Week 1.)
Of course, this means sitting Decker, who of course produced enough fantasy points to carry any team last week. The natural reaction is to start him and hope for similar results, but that's not a realistic expectation. Decker caught more touchdowns against the Chiefs (4) than he had all year up to that point (3). And while his yardage total for the season is excellent, he had averaged just 42.5 yards per game in the four games prior to his Week 13 explosion. The Broncos have too many offensive weapons to rely on one guy going off every week, and Decker's 174/4 was an exploitation of a mismatch that the Titans won't offer.
As far as sex goes I'm good on the homefront. Twice a week is plenty for a guy in his twenties. But I am curious to know – What is your opinion on bondage? I've thought about suggesting it to the lady, but don't want to come off as creepy or weird.
I feel like most people, at one point or another, want to be held down or restrained in some way while getting fucked. I don't think it's weird; I think it's natural to enjoy someone taking charge in the bedroom.
I would suggest, the next time you're having sex and feeling adventurous, grabbing both of her wrists in one hand and pinning them above her head. If she digs it, then you can broach the subject during your post-sex afterglow (right after sex is always the best time to talk about sex).
P.S. keepers is the best thing that's ever happened to fantasy. Force it down my throat all you want, because I enjoy it.
Thankee,
One of many who drank too much over thanksgiving
Very well. Here is this week's episode. Put it in your face-holes.
**********
Captain of Marines Caveman,
This fantasy football season I've more than my share of players who've turned in monster performances, such as sitting Fred Jackson, Ben Tate, and Eric Decker (89.40 total points) last week.
Oof.
Up until now, I've been basing who starts versus who sits by looking at a player's projected points total while also factoring in an opponent's defense as well as if the player is at home versus on the road. Is there a particular stat or set of circumstances that for you dictates whether one player should get a start over another?
Ah, but if I tell you my secrets, then you'll no longer need my fantasy advice!
jk it's all guesswork. It's guesswork that I work really hard at — a more descriptive term might be "predictive systems analysis" — but it's still guesswork, like predicting the weather with an almanac instead of radar.
When it comes to picking who to sit or start, I try to focus on processes rather than results: when all things are equal or I can't decide, I favor the guys who get more touches and targets, the guys in better offenses, and the guys with better matchups. I try to make decisions based not on what happened last week, but what seems most likely this week based on a larger sample size and the matchup at hand. Again: process, not the results. And in fantasy, the results will often fuck you. That's part of the reason why we keep coming back.
No sex question, been married to the woman of my dreams for almost five years. As penance, I offer you a picture of Rose Leslie, reason 1,547 Game of Thrones is the best show on TV.
Regards,
Mike Tomlin's Soul Train Dance Partner
Two things: (1) Rose Leslie as Ygritte is easily top-30 best things about Game of Thrones. And (2) you're gonna send me the first photo Google Image Search turns up — a headshot, no less — of an actress who got spectacularly naked with Jon Snow? YOU KNOW NOTHIN', MIKE TOMLIN'S SOUL TRAIN DANCE PARTNER.
Here, this is a little better (though still not as good as the NSFW GIFs from north of the Wall):
Also worth noting: with Ygritte, Melisandre, and Sansa, Game of Thrones makes for the best redhead watching on all of television.
**********
Wattap baron of beef curtains,
I'm in a unique league that might make you hand-rip your grundle hairs out with some brass knuckles.
Please, I wax my grundle.
8 teams, 4 kickers each, points computed by the total field goal yards of your top 3 kickers. Kickers were drafted based purely on mugshots, bar selfies, and a complete disregard for stats. We're going into our last week – but along with the highest scoring person, I'm out of contention. Ahhh…the magic of the Kickers' League. Did I mention that winner gets a $25 gift certificate to Applebee's? Also, that a tie was broken by a field goal kicking contest at a local high school that got the participants kicked out by the field hockey team (we're all in grad school)? But before going into the last week, a trade has been proposed: Brown/Janikowski for Hauschka/Lindell/3 Hamm's/$5 bar cover? That's some bullshit, right? Should the liberal veto right be exercised? We need answers.
Your demon league departed any realm governed by reason or justice long ago. Objecting to a trade in your Kickers League is like yelling "Point of order!" during a prison riot.
No sex question, so I give you this picture of my current favorite porn girl Megan Salinas:
Thanks,
Ass Man in Ann Arbor
Yeah, ummm… about that picture. We can't show nipples on this blog. (But I should note that what you sent was ALSO the first image from Google search. You fuckers are lazy.) It seems like she does inspired work, though! I invite everyone else to do their own research (not recommended on work computers.)
**********
Dear KSK,
Fantasy: Last week someone wrote in about having the most points in their league, BUT still missed the playoffs. It's possibly the biggest (only?) flaw with the head-to-head fantasy system. We came up with a solution in our 12-team league:
Top-5 teams make the playoffs based on record. Of the remaining 7 teams, the team with the highest point total gets the 6th playoff spot. Somewhat of a "wildcard rule" if you will.
That… that's a REALLY good idea. I love it.
Sex: No good questions for you. Here is a picture of Bears coach Marc Trestman's daughters.
P-Ski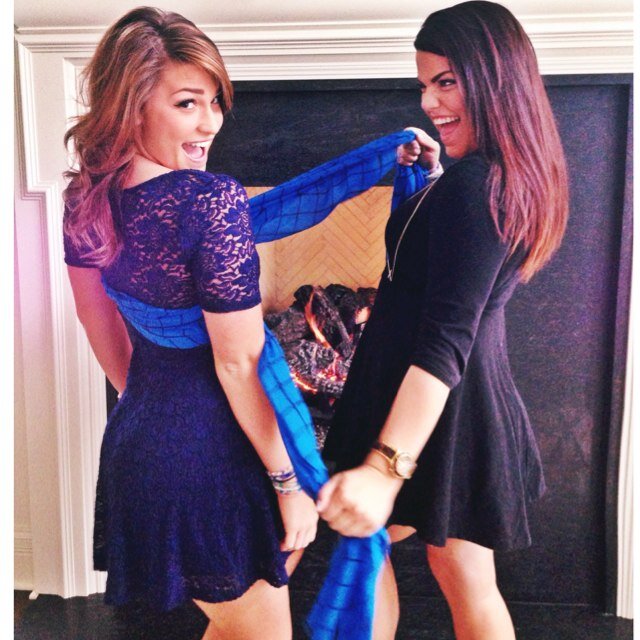 Poor Marc Trestman. "Okay, fellas. FELLAS! Listen up. I know all of you are virile, strong young men with plenty of disposable income, and many of you have flawless rock-hard bodies. I am going to ask once, politely, that you not bed my nubile, flowering daughters. Please?"
**********
Hi Cap!
Fantasy first: This is the first year I've really been into football (I got into it partly to have something to talk about with my coworkers, but mostly because Lex Lion: Gleatest Coach Evel). My roommate's fiance found out, and wants to invite me to his fantasy league next year. I don't understand fantasy football very well, but sometimes I goof around with the TNF challenge or weekly pick'em on NFL.com, and it seems like it would be fun to play in an actual league and get more involved with the game that way. But there's also a part of my brain that thinks I'm getting in way over my head. Should I jump in feet first? How should I prepare in the off season so I don't fail too spectacularly my first time out?
If you like those little one-week challenges, you will almost certainly enjoy playing in a fantasy league. Don't worry about being a n00b: people who don't know much can win at fantasy, and people who know a lot can lose. Jump right in: playing fantasy will only make you a more knowledgeable fan — while also making more NFL games interesting to you.
As for off-season preparation, you can get by with minimal studying. I don't really tune in until the preseason, which offers the first genuine glimpse of "hey this rookie is really looking good!" that causes you to overvalue Tavon Austin and take him in the 8th round. Armed with whatever ideas I've formed, I tweak Yahoo's rankings to bump up guys I want and bump down guys I definitely won't draft (sup, Ray Rice). Also, I recommend doing an online mock draft: it will give you a feel for the pace and patterns of a draft.
As for sex: whole lot of nothing to report. It's mostly my fault, since I'm lazy and dating seems like a lot of work with ridiculously low ROI. I'm not even sure how to find the other single people anymore. Also, as a woman, staying safe is a concern. Do you have any insights from pre-married life? What signal can I send that says, "Hey I'm available but don't pull any bullshit with me"?
Thanks!
Uh, I'm supposed to sign off with a pseudonym, yeah?
Cheers,
FantasyN00b
From pre-married life, I remember it being incredibly difficult to talk to women who didn't look at me. So! If you see a guy you think is attractive, go ahead and make eye contact, maybe give him a little smile. A lot of men tend to be cowards about talking to women, because the usual result is getting shot down, because a lot of women don't want strange men talking to them for any number of reasons. It's all completely justified, but it's also why people are often on Tinder in a bar instead of approaching strangers: less risk, better returns. (On that note: Tinder, OkCupid, and/or Match are all easy, viable options for singles.)
As for being safe and giving off a "don't pull any bullshit vibe"? I dunno, I'm with Louis CK on this one. I would suggest a self-defense class and some mace, but I can't help but think there are more informed female sources on this matter.
**********
Hola Caveman,
Fantasy first: First round of the playoffs and I need to choose 3 out of the following 4 (Andre Johnson @Jax, Alshon Jeffery vDal, Josh Gordon @NE or Wes Welker vTen). I am leaning towards Johnson, Jeffery and Gordon, but I am somewhat worried about Gordon's ability to get open if the Talib is on him for most of the game.
I'm sure a lot of people would love you to have your problem. While Talib is one of the best corners in the game, I'd have a real hard time sitting the guy who just had the first back-to-back 200-yard receiving games in NFL history. And it's not like Welker's a more attractive option: he's averaged just 40 yards per game with zero touchdowns over the last four games after a blistering start to the season (9 TDs in the first 8 games). Oh, and the Titans haven't given up a TD to a WR since Week 2. Even though I have a hunch Welker will bounce back this week, I have no evidence to suggest that he's a better play than Gordon, the best receiver in the NFL who doesn't go by "Megatron."
Sex: I have been in a long distance relationship with a funny, smart, beautiful girl who doesn't have a problem with me getting drunk and acting like an idiot during football season for a little over a year. Thankfully it will no longer be a long distance relationship in a few months, as she is moving. I would like to make the transition as smooth as possible for both of us and any advice from you or the kommentariat as to how to do so is greatly appreciated. As penance for not having a fun sex question please accept this photo of April Rose.
Sincerely,
Tongue-in-Cheek
April Rose seems nice.
As to ending the long-distance portion of your relationship, congratulations! But it won't be all sunshine and blowjobs when you finally live in the same city. The natural inclination will be to spend as much time as possible together, because you've both been missing each other for so long. And that's good! That means you like each other. But you also need to recognize that you've formed habits and patterns without each other, and the presence of your lady could interrupt what's familiar — for both of you. (Depending on your relationship, it can also change the relarionship's dynamic: I've been in LDRs where we never addressed potential problems because our only time together was dedicated to romance — one of us always had a flight or a long drive before we could get around to hashing out philosophical or emotional differences.)
If you two haven't already lived together pre-long distance, I would recommend separate apartments for now. Think of it like a decompression chamber: after being stuck on the bottom of the ocean, you want nothing but fresh air and loved ones, but that would just send deadly nitrogen bubbles through your body. Instead, take it slow: embrace little sips of each other several times a week — enjoy that it's more often than you used to see each other — while easing each other into your own routines and habits.
**********
Hey Cap'n!
Playoffs – Standard Yahoo scoring. Who should I start at QB? Red Rifle vs IND or Big Mensch Small Hands @ WAS? Dalton has been unpredictable all year and usually my RBs and WRs made up the difference. That's how I ended up stumbling into playoffs with a 7-6 record. I'm leaning towards Smith playing against the oh-so-shitty Washington defense. Thoughts?
Blech. While Smith's production has been up lately thanks to some shootouts, I think he'll come down to earth a little bit in D.C. — he won't need to pass as much, and you'll see the Alex Smith special: 220 yards passing, maybe 2 TD passes, zero picks. Solid but unspectacular.
But that may be a better option than Dalton, who's completely unpredictable — I just looked at his home/away splits, searched for trends, looked at the quality of opponents, and … nope. There's no clear indicator of what he'll do. The obvious assumptions are true: he's a little bit better at home than he is away, and he tends to play better against worse teams (the Colts are middle-of-the-pack against fantasy QBs), but there's nothing to suggest he'll be substantially better than Smith. I'd start Mr. Tiny Hands.
Playdates – I've been together with the same wonderful woman for about three years now. Sex is abundant in quality and quantity, but the problem is that she has never been able to experience an orgasm. From what I've been told, she's never had one. Due to a fairly conservative upbringing, experimentation was kept to a minimum at a young age and it just never happened later in life. We have talked about it but I have been careful not to stress about it either. For the most part I've left the issue alone since I do not want to put too much pressure on a delicate situation. It's not that it's a taboo for us, I just feel that me addressing too much would make her feel inadequate. On the other hand, NOTHING would rock my world more than to just watch her experience it one way or another. So, do I resign myself to having a happy relationship in all ways except that one last missing piece or do I start pushing for more experiments with toys, locations, etc.
Yours sincerely,
Dan Smith, BYU
Standard caveat: I am a man, I don't have a female body, and thus it's a little ridiculous for me to suggest what a woman should do to reach orgasm. That said, I think it would be healthy for her if she got a vibrator and went exploring. While men need little more than friction to reach orgasm, many women need complete comfort with their body, the right mindset, proper lighting, clitoral stimulation, clitoral AND vaginal stimulation, a very large phallic object, a phallic object that's not too big, no phallus, more lube, less lube, and/or several other factors that I've never documented and don't really know. Everyone's different, and that's why each individual needs to figure out what works.
Where do YOU fit in? Well, it's natural that you want to satisfy your partner, and of course sex is more satisfying mentally and emotionally when you know that the person you're with is getting the same flood of dopamine to the brain. Of course, you can't really pressure her to try to orgasm, because the pressure just guarantees that she won't ever be in the right mental mindset.
So, talk to her honestly. Tell her that you'd like to facilitate her "sexual discovery" or whatever you want to call it, and maybe offer to go vibrator shopping with her, if she's interested in trying that. There's nothing wrong with trying new things in the bedroom, especially after a couple years together. The important thing is that you're doing what's comfortable for her, not pushing her to do what YOU want.
**********
Greetings to the Captain and the KSK Crew,
Fantasy First: Both my teams in my two leagues are in the race for last. I thought I had a good draft in one of my leagues since I had the first pick and went with All-Day and even got to pick up Thomas for the Broncos, but alas it has just not been my year. I was curious as to what general advice you have for approaching FF, as this year made me a little weary of next year?
Well, if you don't feel like playing fantasy football, then don't play fantasy football. You shouldn't do something you don't enjoy just because it's popular.
But if you're just down because your teams didn't do well this year, that hardly seems like a reason to quit. Every year shakes out differently as teams work through injuries and new stars emerge. I don't always have the best drafts, but I'm aggressive with waivers and free agents, which tends to bump my mediocre teams into the playoffs. That's enough to keep me invested in my teams from year to year, because I enjoy the extra work of maintaining a team and following it during Sunday's games. But if that doesn't work for you, then there's nothing wrong with taking a year off to see how you feel without it in your life.
On Sex (or lack thereof): I will do my best to not make this into a lengthy few paragraphs.
The surest sign of a long email for the mailbag.
Right now in my life, I should feel as though things are moving well for me. I currently have a nice paying role (that I enjoy for the most part) and do my best to assist my family as I was fortunate to graduate school without loans.
Yet, I find myself enthralled in loneliness and I feel each day is a closer step to me just throwing everything away. I talk to other friends who seem to have adjusted pretty well to life outside of college (balancing personal and professional life), which makes me feel as though I am failing in my personal development. I have tried to maintain my involvement in community service and will try to get back into working out again (I did so for a few weeks in October and November, losing twenty pounds in process). I even have begun online dating route with match.com. I even met a really nice lady who told me after first date that my heavy work schedule would prevent any serious relationship from happening (hurt to really hear that from her).
It has been hard not being able to talk to anyone about how things are going for me, as people always see me as the guy who tries his best to maintain a positive attitude through all situations. Plus, I have this deep fear of disappointing others (especially my mom). I have this feeling I should worry about things like this, but then I find my sitting alone on a rare evenings I have to relax thinking how nice it would be to spend with someone else.
I was wondering should I just give up on dating route for now and just accept that is how things will be for the time being in with my job?
As addendum: I will look to pick up my work-out schedule in the next few weeks and join a prominent volunteer organization by the start of 2014 (I really do enjoy community outreach programs).
Thank for any advice you and other KSK'ers can provide,
The Lonely Optimist
You have a very common case of Young Adult Ennui. So one woman you met online said you work too much for a serious relationship? So fucking what? Is one fizzle of a first date really such a heavy blow that you must now consider giving up on dating altogether? COME ON.
Stop comparing yourself to your friends and do what's right for YOUR happiness. If not dating is going to lessen your stress and make you happier, then don't date. If you're sitting around and wishing you had someone to spend time with, then get your ass back on Match or OkCupid or Tinder and find someone to hang out with. If you enjoy throwing yourself headlong into work, then do that. Your happiness is up to you. Everything that you feel — fear of disappointing others, wishing you were having more fun, comparing your experience to your friends' — is all very, very, very normal.
The only other thing I'd suggest, since you sometimes feel helpless and like you can't talk to others, is that you may benefit from seeing a therapist. Talking about your problems to a disinterested third party — and I mean a professional, not some blogger — can be an enomous relief that helps clarify your worldview and facilitates a positive outlook. Give it a try if your negative feelings persist.