Your Sean Taylor Memorial Meast for Week 1 is Peyton Manning. A lot of members of the media are relentlessly eager to laud Peyton for just about anything, so we're usually a bit resistant to join in, but it's hard to deny him after he tied an NFL record by throwing seven touchdown passes in a game, not to mention in the season opener against the defending Super Bowl champions. With another Manning Bowl coming Sunday, we're due for a barrage of footage of Pey-Pey and Eli as kids, so we're getting the admiration out of the way now, before the exhaustion and scorn.
Also receiving consideration: Anquan Boldin, LeSean McCoy, Robert Quinn, Earl Thomas, Reggie Bush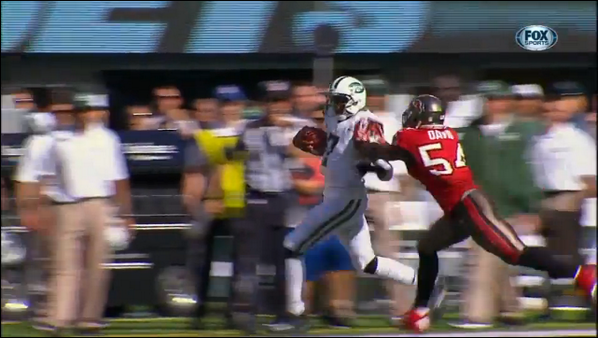 [via]
Your Jeff George Memorial Least for Week 1 is Lavonte David, whose late hit on Geno Smith gave the Jets a hilarious victory over the Buccaneers. Nothing like a hard-ass disciplinarian coach losing a game because of mental lapses by his players. There's a strong argument to be made for David Wilson for Least, as he played a huge part in the Giants losing, lost his job and quickly dashed the hopes of legions of fantasy players counting on him to be a feature back. But New York could have rebounded from Wilson's mistakes and still won. Lavonte saved his biggest derp for the absolute most critical moment. That's leasty clutchitude.
Also receiving consideration: David Wilson, Isaac Redman, Alfred Morris, Eli Manning, Ed Dickson