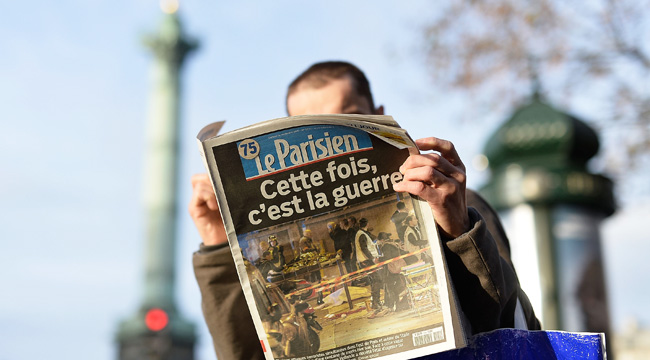 Paris is still recovering from last November's multi-site terror attack that left 130 dead, but new details have emerged regarding the perpetrators of the attack. CNN now reports how European security officials believe 30 to 40 suspected ISIS operatives who helped carry out the attack remain at large.
A report earlier this week found the attack was initially intended to be larger, and some fear another European attack is possibly around the corner. CNN pinpoints how the Islamic State's losses in Syria, Iraq, and Libya have pushed the group to corral their efforts to not only prepare for future attacks, but to mobilize as well.
CTC Sentinel Paul Cruickshank told CNN that European officials are on high alert as the "outlook is as bleak as it has ever been." Cruickshank said that even once they pinpoint ISIS members, the only way they could be tracked is if they "bug their homes or cars." Preparing for a future attack could prove to be difficult as IHS Jane's Terrorism and Insurgency Center Editor Matthew Henman said resources to battle a threat are stretched pretty thin. And officials believe the threat could extend beyond Europe:
"Budget and resource constraints, alongside sub-optimal intelligence-sharing practices and protocols between countries, only hamper these efforts further. It is not just an additional threat that the West now faces, but an added element for the security services to try and contend with."
Henman went on to say an attack like Paris or the one in Orlando is what the group is preparing for while recruiting additional members. With the recent death of a high-ranking ISIS leader, recruitment may slow, but the threat of future terror attacks certainly remains.
(Via CNN)