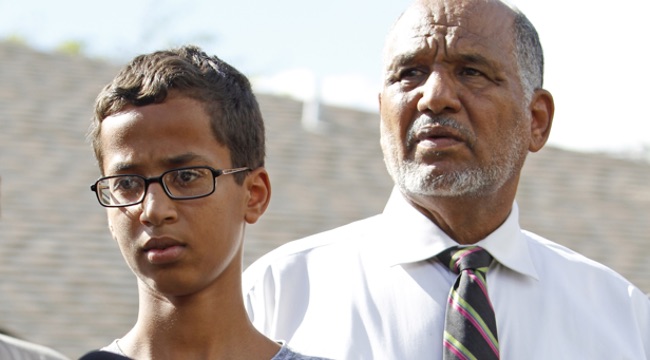 In September, we learned about Ahmed Mohamed, the high school student who was arrested for bringing a homemade clock to school in Irving, Texas. Ahmed swiftly became known as the "Clock Kid," and received support from many high-profile folks, including President Obama, George Takei and the original clockmaster, Flavor Flav. Even the Internet stood with Ahmed, although Bristol Palin dissented (as expected), and others questioned whether Ahmed built the clock in the first place.
Bill Maher's take on the subject was an abrasive one, for he said, "People at the school thought it might be a bomb … because it looks exactly like a f*cking bomb." However, even Maher felt that Ahmed deserved an apology, and that's what Ahmed wants too. He's also asking his school district and the city of Irving for (a combined) $15 million in damages:
Attorneys for the family of Ahmed Mohamed, the Irving high school student who made headlines after being arrested for bringing a homemade clock to school, have sent letters to the city of Irving and the Irving School District demanding apologies and $15 million in damages. Both letters claim that Mohamed's civil rights were violated, and he and his family have suffered physical and mental anguish because of the ordeal.

The letters claim Ahmed was singled out "because of his race, national origin, and religion. Ahmed never threatened anyone, never caused harm to anyone, and never intended to," read the letter to the city. "The only one who was hurt that day was Ahmed, and the damages he suffered were not because of oversight or incompetence. The school and city officials involved knew what they needed to do to protect Ahmed's rights. They just decided not to do it."
The last time we heard about Ahmed, he planned to move to Qatar on full scholarship. This development does not lessen his ordeal. $15 million is a hefty price, although such an amount certainly makes a statement. Indeed, Ahmed's lawyers demand $5 million from his school district and $10 million from the city of Irving. The attorneys say they'll file a formal lawsuit if no agreement occurs within 60 days. Ahmed would also like apologies from the Irving mayor, the school district and the Irving police chief.
(Via USA Today)