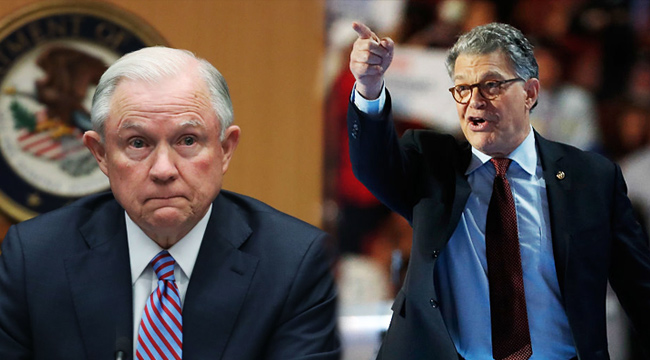 Amid the growing morass that is the investigation into the Trump administration's ties to Russia, one of the bigger question marks has been former Senator and current Attorney General Jeff Sessions. Sessions claimed during his confirmation hearings to have no contact with Russian government officials, a claim that was quickly proven false. And now, as reports swirl of a third meeting Sessions failed to disclose, Democratic senators have revealed they've been pushing for an investigation into this for a while.
Patrick Leahy, one of the key Democrats on the Senate Judiciary Committee, revealed three letters today he and fellow Senator Al Franken filed with the FBI requesting an investigation into Session's potential Russian contacts and potential perjury over those contacts. The most substantial letter is the first one, filed on March 20th, and laying out their concerns. It closes with an uncomfortable point:
We served with the Attorney General in the Senate and on the Judiciary Committee for many years. We know he would not tolerate dishonesty if he were in our shoes. If it is determined that the Attorney General still has not been truthful with Congress and the American people about his contacts with Russian officials during the campaign, he needs to resign.
Whether Sessions will resign or not is an open question. He's already recused himself from the Russian investigation, and currently he's stating that he was informed by the FBI and the Justice Department that he didn't have to disclose his Russian contacts, a statement that many view as unlikely. Either way, the pressure is ratcheting up on Sessions, and even if he doesn't have to testify, questions are beginning to linger about his fitness for the role of Attorney General.
(via CNN)