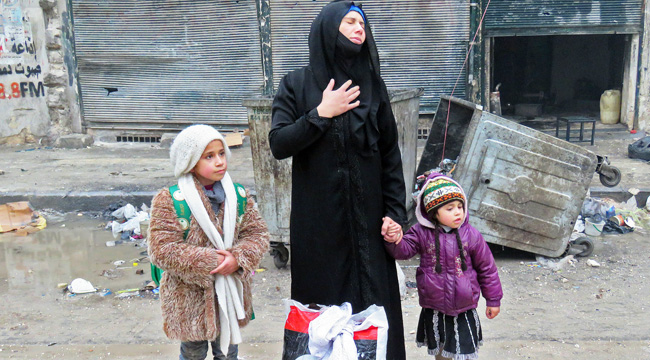 Over the past 24 hours, the five-year battle for war-torn Aleppo has reached what could be the most brutal climax of the conflict. Pro-government forces — which have received plenty of Russian assistance in bombing civilian neighborhoods, hospitals, and entire schools this year — have been steadily regaining territory in rebel-held districts of the Syrian city. The seemingly never ending military confrontation could be over, sooner rather than later, at a catastrophic price.
As the New York Times details, the atrocities that have targeted civilians are growing in intensity. On Monday alone, over 80 people, including women and children, were shot and killed in their homes or in the streets (while attempting to flee). Iraqi forces have also joined those who support Syrian President Bashar al-Assad, who will likely retake the city within days. His regime is allegedly doing so through unthinkable acts of cruelty:
Jens Laerke, a spokesman for the United Nations office coordinating emergency relief, reported that some 37,000 people had fled eastern Aleppo to several western areas of the city and to the surrounding countryside. Some 14,700 took refuge in collective shelters, including in a cotton factory, he said. He called the events "a complete meltdown of humanity."

Foreign Minister Jean-Marc Ayrault of France called the assault on Aleppo a "martyrdom."

In a statement, he described "coldblooded murders of entire families on the ground who were deemed close to the opposition; summary executions, including of women and children; people burned alive in their homes; the continuation of systematic targeting of hospitals, their staff and their patients."
Tragically, isn't the first or even the dozenth time that the UN has sounded the alarm in the besieged city. For years (and especially after the failed U.S.-Russia brokered ceasefire this summer) civilians have faced the impossible decision of risking their lives by remaining in Aleppo or facing near-certain starvation by leaving. Recent humanitarian efforts to aid these residents have been sabotaged or even targeted by Russian air strikes.
CNN has published some of the latest developments on this situation, which include around 100 children currently trapped in a building that's under attack by pro-government forces. The Assad regime has nearly recaptured the entire city of Aleppo, and its impending fall will count as a defining point in the Syrian civil war.
This Getty photo (from Tuesday) shows a billboard of Bashar al-Assad in what was the rebel-held Bustan al-Qasr neighborhood in eastern Aleppo. Pro-government forces have recaptured this area, along with many others.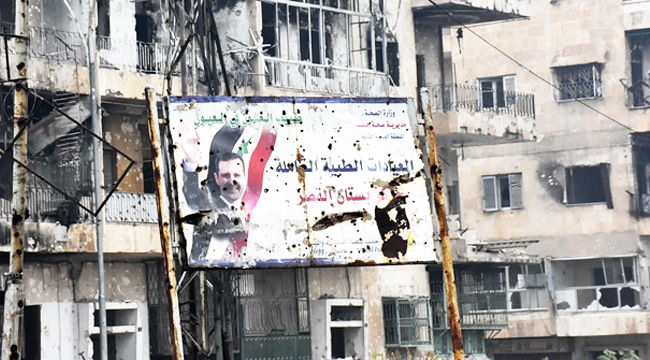 (Via New York Times, The Guardian & CNN)