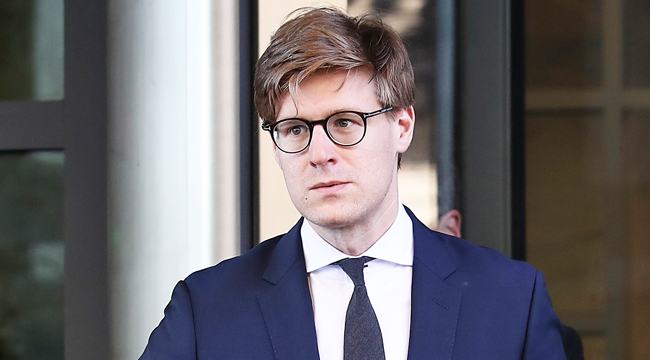 Within the scope of Special Counsel Robert Mueller's sprawling Russia probe, several Trump associates — including Paul Manafort, Rick Gates, Michael Flynn, and George Papadopoulos — have been charged with wide-ranging offenses, many of them financial crimes and offenses involving falsehoods told to law enforcement. In February, headlines popped up featuring an unfamiliar name, Alex van der Zwaan, within the list of those charged, and he has now become the first person sentenced in the Mueller investigation.
NBC News' Pete Williams reports that van der Zwaan — a Dutch national and reportedly the son-in-law of a Russian oligarch — has received 30 days in prison and a $20,000 fine for lying to the FBI. In particular, van der Zwaan had been charged over falsehoods involving communications with Rick Gates and an unidentified "Person A," who likely hailed from the Ukraine. He faced up to six months behind bars, and CNN has details from the courtroom:
Earlier Tuesday, Van der Zwaan's attorneys begged for no jail time for their client, who mostly sat with pursed lips, slouched at the defense table.

He did say a few sentences of contrition that he read from a paper. "What I did was wrong," he uttered. He also apologized.
The fate of van der Zwaan will likely be of great interest to those attorneys representing two other Trump associates who also pleaded guilty to lying to the FBI. That would be former Trump advisor Papadopoulos, whose drunken bragging to an Australian diplomat actually jump-started Mueller's probe in the first place, and Flynn, the fleeing national security advisor who worked out a sweetheart deal (with sentencing still unknown) among the litany of other, more serious offenses that Mueller hung over his head. What's next for the Russia probe? Only Mueller knows, but the man has a plan.