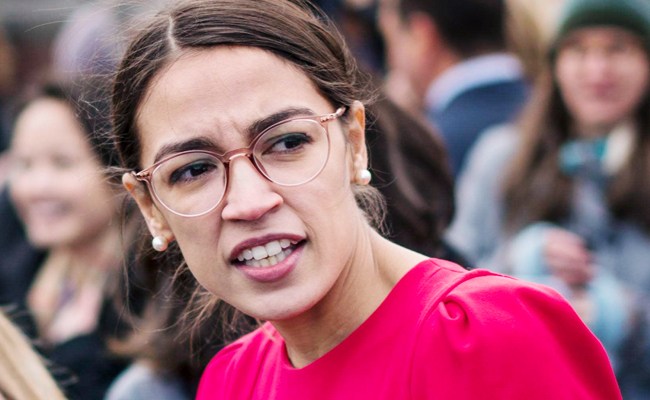 Everyone's favorite representative-elect, Alexandria Ocasio-Cortez, hasn't even been sworn in yet, but she's clearly hungry to get in there and turn her tweets into law. For now, her good ideas will have to stay on social media. Her latest is a doozy, even better than her proposed antidote to the dreaded SantaCon: Hours into the government shutdown, she declared that next time Congress should be stiffed on paychecks along with all the other "lesser" government employees, including one State Department janitor who now can't buy her grandchildren a bike for the holidays.
"Next time we have a gov shutdown, Congressional salaries should be furloughed as well," Ocasio-Cortez tweeted. "It's completely unacceptable that members of Congress can force a government shutdown on partisan lines & then have Congressional salaries exempt from that decision."
It would, for the most part, be a symbolic gesture, she admitted when confronted by one of Twitter's countless fans of civil discourse.
"Spoiler alert: most members of Congress are already wealthy!" she pointed out. "Speaking as a working class member-elect, I think it's only fair. It would also cause members who actually depend on their salary to think twice about leadership and take a shutdown vote more seriously."
At least one representative came to the same conclusion: Arkansas rep French Hill voluntarily denied pay during the shutdown.
The partial government shutdown began at midnight on Friday, mostly due to stalled negotiations about the Border Wall that Donald J. Trump and many of his supporters have been salivating over since the president realized stoking racial fears was helping, not harming, his presidential campaign.
Trump blamed the Democrats for the first shutdown that's taken place since he took office nearly two years back, flatly contradicting his pre-shutdown boast that he would take the blame — words he may have forgotten were captured on video while he was surrounded by journalists.
The shutdown only affects a quarter of federal workers, with some at the lowest tiers expected to work with no promise of being paid for their efforts. Congressional representatives are typically paid, or at least are reimbursed at a later date, despite their literal inability to do their job.
Surprisingly, maybe even surreally, some Trump supporters agreed with Ocasio-Cortez's proposal, breaking from the long conservative tradition of freaking out over everything she does, much to her amusement and mild irritation. One new supporter was a professed "Russian bot" and "Supporter of Trump":
And this Navy SEAL and "Trump loyalist":
And this person:
And this woman:
And this person who doesn't appear to like greed but also apparently roundly dislikes the alleged "socialist" Ocasio-Cortez:
Nevertheless, it's too late for anyone to stiff Congressional representatives now, the way they're stiffing thousands of employees, and over the holidays. The shutdown is expected to last through Christmas at least, and remember to blame the guy who took credit for it before it happened.
(Via The Daily Dot)