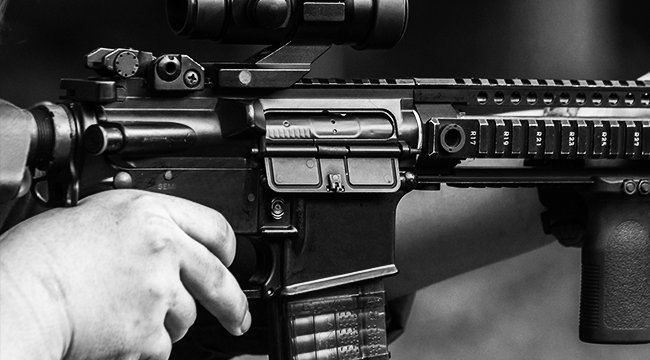 Following gunman Nikolas Cruz's killing spree at Stoneman Douglas High School on Valentine's Day, the U.S. appears to be approaching a watershed moment. Teen survivors are demanding action and going toe-to-toe with the NRA spokesperson. Through their emphatic appeals, they're cutting through rhetoric and may bring measurable gun control results. Hence why it's worth watching when a teen shooting survivor suggests renaming the AR-15 after Marco Rubio because they're both "so easy to buy." Advertisers are listening, and that presents a major problem for the NRA and Congress.
The symbiotic relationship between the gun lobby and politicians is easy to explain. Politicians play to their own voting bases while accepting the NRA's money to fuel their campaigns. In return, they shut down gun-control efforts in the name of the Second Amendment. The list of those who receive millions of dollars in campaign contributions receives attention with every mass shooting, but these legislators are now being "shamed" by teens over "blood money."
The gun lobby's cohesive message has ensured its survival until now, but sponsors are deciding that it's a bad look to support the pro-gun agenda. Here's the damage so far:
The NRA-Branded Personal Visa Card: The First National Bank of Omaha announced that it will not renew the NRA's credit card deal, which delivered an unspecified kickback to the gun lobby for every transaction. A spokesperson declared that "customer feedback" led to the decision following this demand from Nebraskans Against Gun Violence:
"If you decide to continue offering benefits to NRA members, we intend to organize a public protest of your bank and have already secured the commitments of several of your customers to cancel their accounts because they do not want to support a bank that actively promotes the single largest obstacle to the reduction of gun deaths in the U.S."
Enterprise Holdings: One of the world's biggest car-rental conglomerates — which encompasses Enterprise Rent-A-Car, Alamo Rent a Car, and National Car Rental — has chosen to end a discount program for NRA members. The loss of this partnership will see the promotion end on March 26, and Enterprise didn't make any secret of why this decision happened during a Twitter reply over the #BoycottNRA hashtag.
Symantec: The Semantic Corp joined the list while shutting down a program that offers NRA discounts for their LifeLock identity theft service. The company tweeted a simple acknowledgement.
Symantic takes anti-virus and spyware software maker Norton with them, and Florida shooting survivor David Hogg has expressed gratitude.
MetLife: The home and automobile insurance provider previously offered "generous pre-negotiated NRA group discounts." However, the company has now tweeted, "We value all our customers but have decided to end our discount program with the NRA."
SimpliSafe: The home security company, which previously offered two months of free service for new customers, kept things short and sweet in a statement to ThinkProgress while declining to answer any followup questions: "We have discontinued our existing relationship with the NRA."
Wyndham Hotels: The worldwide chain is "no longer affiliated with the NRA."
Hertz: The rental car company has followed Enterprise Holdings' example, which means that NRA members will be strapped for discounts while driving on vacation during similar times of automobile need.
TrueCar: NRA members will no longer be taking advantage of an average savings of "$3,383 off MSRP!" through this car-buying service.
Delta Airlines: In a tweet, the airline declared that it was reaching out to the NRA to end discounted rates for members and "requesting that the NRA remove our information from their website."
United Airlines: Likewise, this airline won't be handing discounts to NRA members who book them for the association's annual gathering.
Chubb: The health and home insurer told Reuters that it's putting the brakes on an NRA-branded insurance policy (called the "NRA Carry Guard") specifically geared toward gun owners. Chubb says this decision to stop underwriting the policy was made three months ago, but they made a public announcement only following the Stoneman Douglas massacre.
Avis/Budget: The car rental brand emailed ABC News to declare that they "will no longer provide the NRA member discount."
Best Western: The hotel and resort chain answered a tweet by stating that it "does not have an affiliation with and is not a corporate partner of the National Rifle Association." The tweet did not clarify whether this decision was made recently or in the past.
Paramount Rx The company tweeted (while thanking customers for feedback) that it's working to end its prescription discount "that is made available to NRA members is offered through a third-party vendor."
Starkey Hearing Technologies: The hearing-aid manufacturer declared that it would not be renewing its NRA discount program while tweeting, "We will be asking them to remove our information from their website."
Allied Van Lines and North American Van Lines: Both moving companies issued announcements that they're cancelling their affiliate relationships with the NRA, effective immediately.
Dozens of other companies with similar NRA partnerships, including FedEx have yet to make their positions known. However, HotelPlanner.com tells Bloomberg that they're not budging from their NRA support.
We will, of course, continue to update this list with further developments.