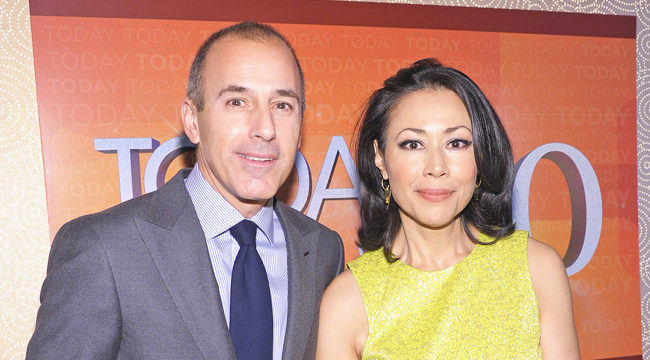 NBC recently released its internal investigation findings on the handling of Matt Lauer, who was fired for "inappropriate" behavior. The network declared that there was "no evidence" that leadership knew of any sexual misconduct allegations against Lauer. This contradicts Ann Curry's previous statement to the Washington Post, to which she claimed that she'd told multiple executives (in 2012) that Lauer was "a problem" after an employee told Curry that she was "sexually harassed physically" by him.
Well, Curry has now told the New York Times that she wasn't part of this internal probe (as NBC claims), which was not (as with Fox News and NPR's recent instances) conducted by an outside firm but by NBCUniversal's general counsel, Kimberley D. Harris. Curry kept things brief:
On Wednesday, NBC's legal team said that Ms. Curry had "a discussion" with the network's investigators, and, in reference to Ms. Curry's comments to The Post, noted that "members of NBC News and Today show leadership at the time with whom we spoke denied having any such conversation with Curry."

Ms. Curry took issue with that characterization. "I have not participated in any formal investigation by NBC on sexual harassment," she wrote in a statement.
The internal probe primarily revolved around whether NBC executives knew of the Lauer allegations, and the issue was framed against the larger backdrop of a possibly pervasive hostile work environment for women. And these findings (that executives knew nothing) arrive shortly after multiple women have made sexual misconduct allegations against Tom Brokaw as well.
The probe also dispensed with Lauer's door-locking button in his office as a possible alarm bell for executives. NBC found that while Lauer used it to initiate some of his inappropriate conduct, executives were also known to use these buttons for legit security reasons (such as an active shooter) or for privacy during phone calls. Where NBC's overall findings go from here, after Curry is still talking, remains to be seen, but it's odd that they conducted the probe only internally, rather than with the aid of an independent firm.
(Via New York Times)