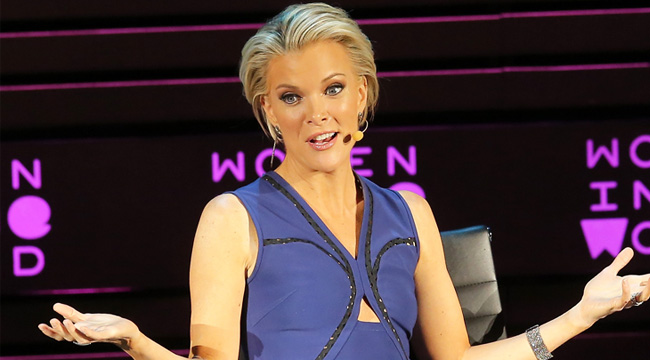 Megyn Kelly could be in some hot water at Fox News for not speaking up in defense of Roger Ailes after former anchor Gretchen Carlson sued him for sexual harassment last week. "Megyn is being selfish," an anonymous Fox News insider told The Daily Beast. "It's pretty shocking, actually." The insider went on to say that Kelly's silence on the accusations was unfair, considering Ailes has defended her against Donald Trump in the past:
"Here you have a leading presidential candidate getting into a fight with her, and the network stands up for her, cancels a debate, and sticks by her with a whole bunch of drama on her behalf. Now Roger's got a problem, and every other woman in the entire place stands up for him except her. What's that about?"
Kelly's silence makes her an exception to the rule — more than a dozen Fox News personalities, including anchors Greta Van Susteren, Maria Bartiromo, and Geraldo Rivera, have all loyally defended Ailes against Carlson's accusations. Republican presidential nominee Donald Trump also weighed in on the allegations by stating, "I think they are unfounded just based on what I've read. Totally unfounded, based on what I read."
"I can only guess that she wishes to be a feminist icon and doesn't want to be on the wrong side of it," the Fox News insider said. "My impression is she doesn't want to be on the opposite side of a woman, period." Since Carlson's lawsuit surfaced, six more women have come forward to accuse Ailes of sexual harassment.
(via The Daily Beast)