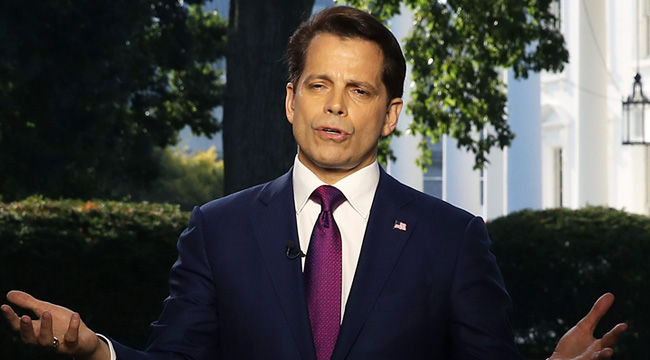 Anthony "The Mooch" Scaramucci has only been the White House Communications Director for about a week, but he's already made quite the spectacle of himself. Between his old, woke tweets; bizarre (and wholly unbelievable) claims about President Trump; and his continuing crusade against alleged leaker/Chief of Staff Reince Priebus, there's truly been something for everyone to enjoy endure. And now The Mooch has delivered an interview to The New Yorker that one cannot possibly ignore.
The interview is wide ranging, and he really tears into Priebus, but here's the most buzzed-about passage of the piece (for obvious reasons):
Scaramucci also told me that, unlike other senior officials, he had no interest in media attention. "I'm not Steve Bannon, I'm not trying to suck my own c*ck," he said, speaking of Trump's chief strategist. "I'm not trying to build my own brand off the f*cking strength of the President. I'm here to serve the country." (Bannon declined to comment.)
They asked Bannon for comment! That's both gutsy and amazing, and it must have been difficult for Bannon to resist firing back with an insult like he did with poor Sean Spicer. Plenty of social media reactions immediately poured forth on the Bannon comment, and we'll cover those separately, but this one is excellent.

That was all that Scaramucci had to say about Bannon, but he had several thoughts on Priebus (he's hopping mad about that financial disclosure form, which is a matter of public record), including how he believes the embattled senior staffer will soon resign. The Mooch also raged about leaks and how he's still gonna fire everyone:
"They'll all be fired by me," he said. "I fired one guy the other day. I have three to four people I'll fire tomorrow. I'll get to the person who leaked that to you. Reince Priebus — if you want to leak something — he'll be asked to resign very shortly … Reince is a f*cking paranoid schizophrenic, a paranoiac," Scaramucci said. He channelled Priebus as he spoke: ";Oh, Bill Shine is coming in. Let me leak the f*cking thing and see if I can c*ck-block these people the way I c*ck-blocked Scaramucci for six months."
The publication also asked Priebus to comment on all of this stuff and received nothing in response. What exactly would he say about this, anyway? The level of crazy just went up in the White House, and Priebus is probably holding on for dear life.
UPDATE: Scaramucci responded Thursday night on Twitter by blaming the reporter he called for publishing the things he said to the reporter during the call.
(Via The New Yorker)