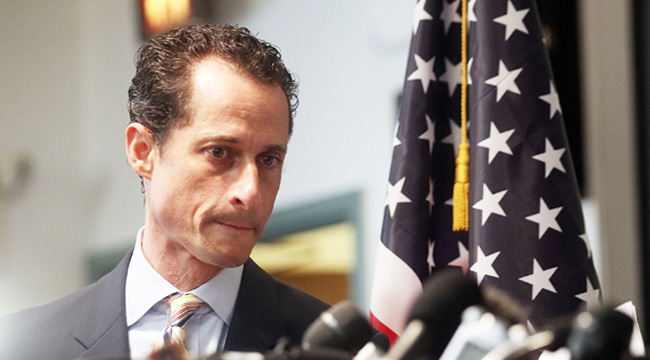 Last week, Anthony Weiner implored a judge to spare him prison time after he pleaded guilty to transferring obscene material to a 15-year-old girl in his sexting case. He did so in a letter to the court while expressing regret for effectively tanking the political aspirations of his wife, Clinton aide Huma Abedin. The former U.S. congressman was speaking, of course, of how federal agents were digging through his laptop when they discovered Clinton-linked emails because Abedin had used the same machine. Regardless of anything that Weiner was arguing within his plea to the court, his judge has decided that Weiner must serve hard time for his crime:
Former Rep. Anthony Weiner was sentenced Monday to 21 months in prison for sexting with a minor.

In addition to the prison term, Weiner also was sentenced to three years of supervised release. "This is a serious crime that deserves serious punishment," Judge Denise Cote of the Southern District of New York said.
All things considered, Weiner's sentence is a light one, for he could have served up to 10 years behind bars. Prosecutors had asked for up to 27 months while his attorneys argued that probation was sufficient. In between Weiner's letter that asked for lenience and Monday's sentencing, the New York tabloids had a field day outlining his exploits with headlines like "Three Time Perv."
Indeed, his pattern of behavior even prompted the long-suffering Abedin to finally file for divorce after Weiner's guilty plea. And of course, his exchange of obscene material with a minor led to the reopening of the notorious Clinton email probe, which arguably may have affected the U.S. election outcome. However, the judge made no mention of the fallout while handing out the sentence, and for maybe 21 months (good behavior will likely whittle down actual time served), teens everywhere are safe from Weiner's sexting habit.
UPDATE #1 – 12:30pm EST: According to the Daily Beast, Weiner got "weepy" while addressing the court after his sentence came down: "Now I focus on how to live my new, smaller life, one day at a time … I have a disease, but I have no excuse."
(Via CNN & Daily Beast)