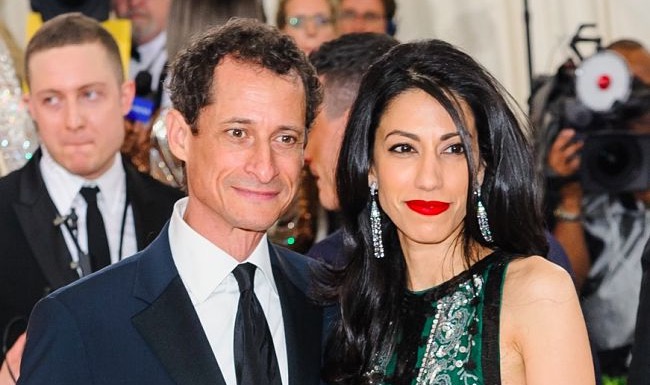 Huma Abedin, the former Deputy Chief of Staff to the U.S. Secretary of State and one of Hillary Clinton's current top aides, is separating from her husband Anthony Weiner. The news comes less than a day after the disgraced politician — who resigned from Congress in 2011 after accidentally posting an explicit photo on Twitter — was embroiled in yet another sexting scandal, this time over photos he allegedly sent to a "busty brunette," according to the always articulate New York Post, while a child slept in bed next to him.
In a statement, Abedin wrote:
After long and painful consideration and work on my marriage, I have made the decision to separate from my husband. Anthony and I remain devoted to doing what is best for our son, who is the light of our life. During this difficult time, I ask for respect for our privacy.
Abedin and Weiner (who has since deleted his Twitter) became engaged in 2009, and got married in 2010. They have one child together, four-year-old Jordan, who was reportedly pictured in the "sext" mentioned above. Their relationship was at the forefront of the engrossing documentary, Weiner, which premiered at the Sundance Film Festival this year to rave reviews.
There's probably enough material for Weiner 2 by now.
UPDATE #1 – 12:20 EST: The situation is only growing worse for Weiner, who just lost his New York Daily News columnist gig. The Daily Beast relays a statement from opinion editor Josh Greenman, who simply stated, "[W]e won't be running his columns in the future."
UPDATE #2 – 12:30 EST: Donald Trump quickly weighed in on the separation news. In true Trump fashion, he's transformed the crumbling of a marriage into a political issue by blaming Clinton for "allowing Weiner to have such close proximity to highly classified information." That's quite a leap of logic to call a sexting husband a threat to national security, but there it is. Trump's statement arrives courtesy of Sopan Deb on Twitter.
(Via CNN & The Daily Beast)