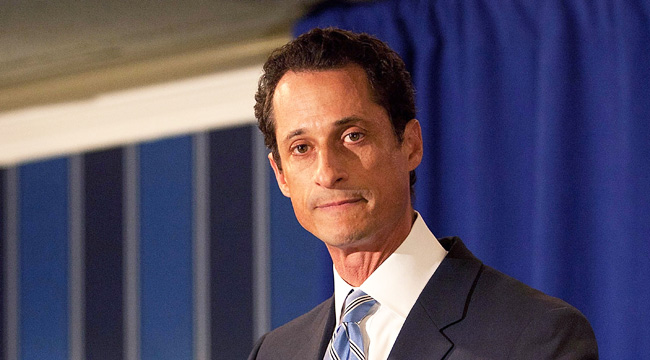 The New York Post is reporting that child welfare officials are investigating former New York Congressman and mayoral candidate Anthony Weiner. This report arrives after a photo of the politician in his underwear lying next to his young son was plastered on the cover of the paper. Beyond taking almost-nude selfies next to his sleeping child, it was reported that Weiner referred to his son as a "chick magnet" in text conversations with a woman he met online.
According to the Post, someone from the Administration for Children's Services "showed up at Weiner and estranged wife Huma Abedin's Union Square apartment building on Tuesday." However, Weiner said Wednesday that he was not visited or interviewed by ACS.
Abedin announced she should be divorcing Weiner shortly after the Post story was published. "After long and painful consideration and work on my marriage, I have made the decision to separate from my husband," she said in a statement.
Weiner was first caught up in a sexting scandal in 2011, when he accidentally tweeted a dirty photo meant for a private message. He resigned from congress due to the fallout. Two years later, while running for mayor of New York City, he was again taken down by a Post cover story about his sexting habit. That time, it was widely reported that he had gone by the name "Carlos Danger."
The Weiner documentary, which traces Weiner's mayoral run in 2013 and the fallout from his second sexting scandal, will premiere October 22 on Showtime.
(Via New York Post)