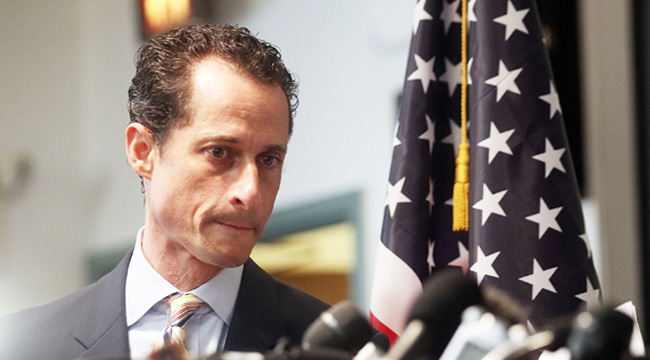 Anthony Weiner has reportedly agreed to plead guilty in a Manhattan court on a charge of transferring obscene material to a minor. The former U.S. Congressman — who resigned from the House in 2011 over growing scandals involving his lewd online behavior (and the problem has only grown worse) — is expected to appear before a judge on Friday. This charge stems from the FBI's investigation of his "sexting" with a 15-year-old girl. Weiner previously claimed that the scandal was a "hoax," although the girl provided screencaps to show that Weiner had sexted her on Twitter and engaged her on Skype while asking her to remove her clothes.
This led the FBI to dig into Weiner's laptop and other electronic devices, which bizarrely pulled Hillary Clinton's emails back into the public spotlight — and provided ammunition for James Comey to reopen the probe into her private email server, mere weeks before the election. Comey's choice to do so led to yet another declaration that there was no criminality with Hillary's emails, and subsequently, the presidential election may have become collateral damage of the Nor'easter known as Carlos Danger.
The New York Times reports that Weiner, age 52, surrendered to federal agents early on Friday morning. The charge that he has agreed to could potentially lead to anywhere from zero to ten years in prison. There's the possibility that he'll have to register as a sex offender as part of the plea deal, but we won't know more until a judge makes the call in court.
(Via New York Times)