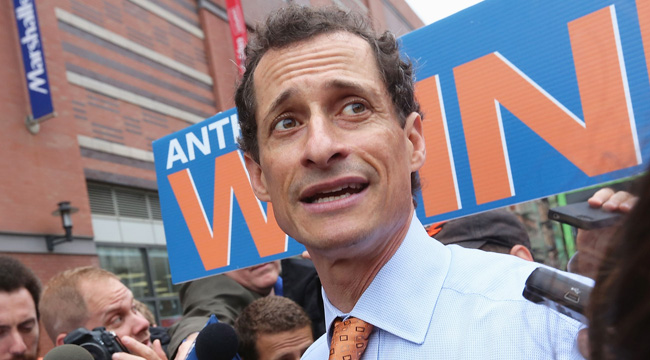 Anthony Weiner's most recent sexting scandal only appears to be growing worse. The Daily Mail and New York Daily News report that the former congressman had been messaging with a 15-year-old high school student for several months. The Daily News claims he wrote her inappropriate messages and, as he has done with all of his scandals, sent her shirtless pictures of himself.
The Mail has secured the alleged texts in question, which show that Weiner was fully aware she was underage. What makes this recent development even more stomach churning is that he reportedly tried to engage her in "rape fantasies." Weiner, who separated from wife Huma Abedin a month ago, has claimed that these texts are nothing but a hoax:
"I have repeatedly demonstrated terrible judgment about the people I have communicated with online and the things I have sent. I am filled with regret and heartbroken for those I have hurt. While I have provided the Daily Mail with information showing that I have likely been the subject of a hoax, I have no one to blame but me for putting myself in this position. I am sorry."
The wording here is notable, seeing as Weiner hasn't denied talking with the underage girl. The girl said she had reached out to Weiner in January, and the two talked over Twitter direct messages for a bit, and then they snowballed into Skype sessions.
Weiner, for lack of better term, can't seem to keep it in his pants with these repeated sexting scandals. However, NYPD Commissioner James O'Neill told the Daily News that the department was not aware of any allegations against Weiner or whether the girl spoke to authorities.