Thousands of people have taken to the streets in several major cities across the nation in protest of Donald Trump's victory in the 2016 Election. Protests in New York, Chicago, and other cities are seeing a flood of people expressing their disdain for President-Elect Trump and expressing frustration with the process that put him in line for The White House.
Video: pic.twitter.com/9pEzWoc0fx

— Maddow Blog (@MaddowBlog) November 10, 2016
The New York City protest is taking the bulk of the spotlight thanks to the presence of Trump Tower, with many people congregating outside the building and chanting against Trump. According to Buzzfeed News, the protests began small early in the afternoon and grew as the group moved towards Trump Tower:
The protest, which began Wednesday afternoon when hundreds gathered at Columbus Circle, culminated in a massive march through the streets to Trump Tower, where the crowd swelled into the thousands.

"Donald Trump go away; racist, sexist, anti-gay," the protesters shouted at Columbus Circle, across the street from Trump International Hotel & Tower. "Pussy grabs back," some yelled. "Donald Trump is full of shit, he can't be the president."
Thousands of protesters in NYC, other cities around US take to streets to express disdain for president-elect Trump. https://t.co/2uuhYqZ6KD pic.twitter.com/JNeHhGDxtu

— ABC News (@ABC) November 10, 2016
Similar protests sprouted in Philadelphia, Boston, and Chicago, with many even taking to the streets in the early hours following the projections in Trump's favor. According to The New York Times, protesters hit the streets from UC Berkeley and made their way into Oakland, only to be dispersed by police soon after 3 AM. Elsewhere in California, many organized walkouts and protests throughout the day according to the LA Times:
At Berkeley High School, about 1,500 students — half the entire student body — walked out of class after first period began at 8 a.m., Berkeley Unified School District officials said.

Students tweeted "#NotMyPresident" and pledged to unify. Others chanted, "Si, se puede," Spanish for "Yes, we can," and waved Mexican flags, according to posts on social media.

"It's not the first time we've had a walkout. We know what to expect, we know what we need to do," said Berkeley Unified spokesman Charles Burress.
Other high schools also saw walkouts in California, joining other protests in the state throughout the day.
The underlying message behind the protests seems to fear of what a Trump presidency may hold, with many sharing their emotions with Buzzfeed News on the streets:
Eleen Liu, a student at Fordham University said she was shocked with the results of the presidential election.

Being the daughter of immigrants from China, Liu said she feels terrified and heartbroken for what Trump's policies could mean for other immigrants.

"This is not what America is," Liu said, adding that she feels hopeful and comforted that others turned up to "grieve" at the protest.

Acacia Nunes, a Bard student, also said she was devastated and came to the protest to feel connected to others grieving the results.

"As a woman of color, I don't feel safe with Trump as my president," Nunes said. "I'm not his priority, and fear, which is palpable, can't be understated."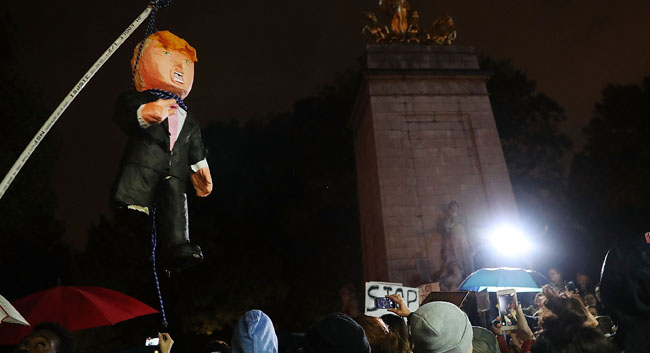 As of 9:30 EST, protesters are still on the streets across the nation and holding strong for now. According to CNN, police in New York City have no plans to disperse the group for now, and there are no reports of violence. You can check out some of the sights from the protests below, but we'll keep updating as more information comes in.
(Via Buzzfeed News / The New York Times / LA Times)