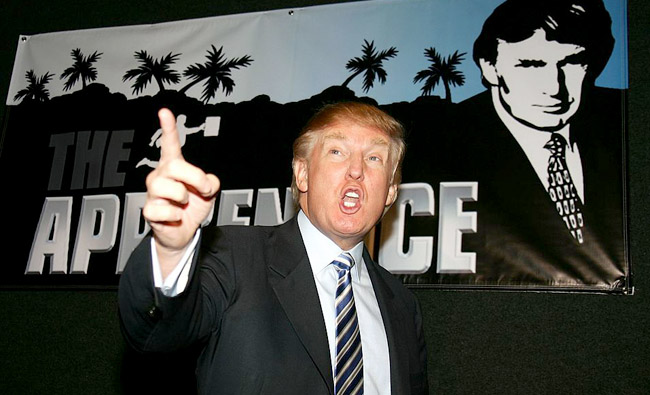 Okay, so there's a 50/50 chance that former reality TV star Donald Trump is going to be president of the United States. That sounds pretty bad. But is he really as dangerous as he seems? Or is he very well aware of the image he's curating for cameras and social media? Well, Slate tracked down some former staff and crew members who worked with Trump back on The Apprentice, and it seems as though, terrifyingly, the answer to both of those questions is a resounding "yes."
Bill Pruitt, producer on seasons one and two of The Apprentice — at risk of violating an NDA but feeling as though it is now his patriotic duty to talk about it — reveals that Trump was "always a narcissist." Pruitt claims that what viewers didn't pick up from The Apprentice is that it was the "evolution of a storyteller" in Donald Trump, how aware he was of the story he was telling, and how adept he was at shaping it and manipulating the audience.
And that's exactly what he's doing now to the American public, and we are eating it up hand over fist:
"Those of us involved in the show are proud of our work. But we might have given the guy a platform and created this candidate. It's guys like him, narcissists with dark Machiavellian traits, who dominate in our culture, on TV, and in the political realm. It can be dangerous when we confuse stories we're told with reality. We need to wake up—and that's from someone who helped tell these stories."
Other former staffers Slate spoke to weren't as brazen as Pruitt, choosing to stay anonymous. But their stories resonate heavily, as you can see Trump's patterns from back in his reality TV days emerging in his presidential campaign. For instance, he's got a thing for funny fat guys:
"There was a fat contestant who was a buffoon and a f*ckup," recalls the midlevel producer. "And he would f*ck up week after week, and the producers would figure that he'd screwed up so badly that Trump would have to fire him. But Trump kept deciding to fire someone else. The producers had to scramble because of course Trump can never be seen to make a bad call on the show, so we had to re-engineer the footage to make a different contestant look bad. Later, I heard a producer talk to him, and Trump said, 'Everybody loves a fat guy. People will watch if you have a funny fat guy around. Trust me, it's good for ratings.' I look at Chris Christie now and I swear that's what's happening."
Also unsurprising were claims of Trump's rampant misogyny while filming The Apprentice — apparently, he regularly described women by their breast size and appearance. Additionally, his fascination with menstruation goes back long before Megyn Kelly:
"He would talk about the female contestants' bodies a lot from the control room," recalls one midlevel producer. "We shot in Trump Tower, the control room was on the seventh floor, and he walked in one day and was talking about a contestant, saying, 'Her breasts were so much bigger at the casting. Maybe she had her period then.' He knows he's mic'd and that 30 people are hearing this, but he didn't care. That's kind of him. During the campaign, when he was talking about Megyn Kelly, I thought: 'He's obsessed with menstruation.' "
The whole thing paints a horrifying picture of the ringleader of the three-ringed circus who is dangerously close to becoming the leader of our country. For more insights regarding Trump's germaphobia and disingenuous donation history, the whole piece is worth a read.
(Via Slate)