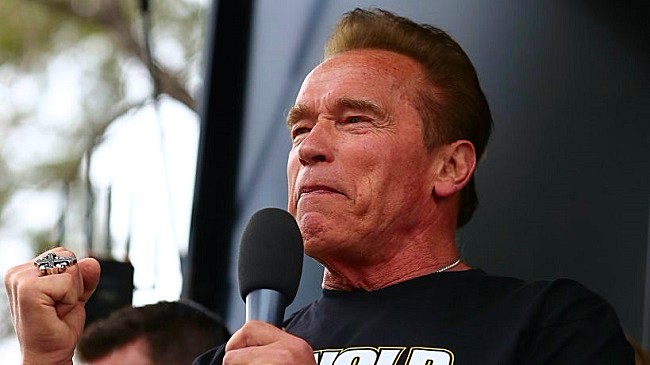 On Friday, breaking news reports indicated that former California governor and actor Arnold Schwarzenegger was undergoing emergency open-heart surgery. However, sources familiar with the matter told The Hollywood Reporter that Schwarzenegger's procedure was actually a planned one, and that the 70 year old was in stable condition following the procedure. A spokesperson for the entertainer released a statement with additional details about Thursday's surgery — as well as some context for what it had happened in the first place, and a possible explanation as for why previous reports assumed the situation was more dire.
Schwarzenegger's representative, Daniel Ketchell told THR that the former bodybuilder turned actor "had an aortic valve replaced, which he also had done in 1997." In a much longer statement released on Twitter, Ketchell explained that the replacement valve had "outlived its life expectancy, so [Schwarzenegger] chose to replace it yesterday through a less-invasive catheter valve replacement." As is standard hospital practice, "an open-heart surgery team was prepared" to work on the former governor just in case something went wrong during the catheter valve replacement operation.
"Governor Schwarzenegger's pulmonic valve was replaced successfully," the spokesperson concluded. "He is currently recovering from the surgery and is in stable condition." You can read the full statement below.

UPDATE — 2:35 pm ET: In a follow-up tweet, Schwarzenegger's spokesperson revealed the former governor was awake and "in good spirits." Also, the actor's first words upon waking up were, "I'm back."
(Via The Hollywood Reporter)