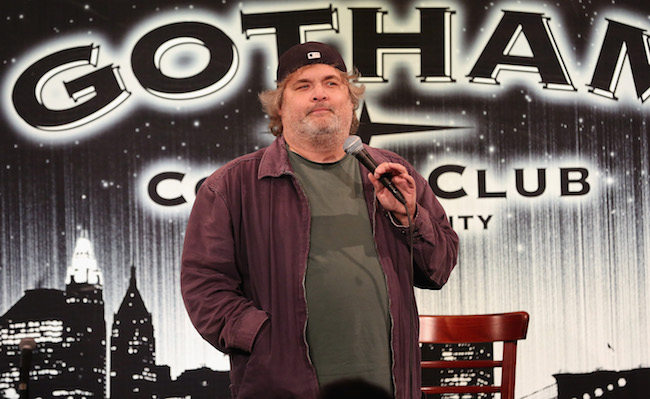 Artie Lange doesn't have any sympathy for his stand-up peers that have been called out for sexual harassment and misconduct. In a new interview with The Daily Beast, Lange makes his feelings on Louis C.K. and Aziz Ansari abundantly clear.
In a wide-ranging chat touching on a laundry list of Lange topics (substance abuse, Howard Stern, etc.), the MADtv alum was also asked about his reaction to Louis C.K.'s admitted misconduct and Aziz Ansari's behavior. As is his custom, Lange was not shy in expressing his feelings about the two disgraced comedians. He also gives a nod to Samantha Bee in his response.
Aziz "I'm sorry" is a better name. I don't have any respect for Aziz Ansari. I'm glad nobody got raped. But you know, I agree with Samantha Bee when she says it doesn't have to be rape to ruin somebody's life. That's true. And what Louis did is despicable. That was a rumor for a long time. But if you're a couple of women at the Aspen Comedy Festival, you've got a lot going on, probably. And there's this comedian, who back then he wasn't famous, but he's always been respected, and they certainly knew him. And he's promising them shit supposedly, and it's just because he wants to jerk off in front of them. It's just the creepiest thing ever. Louis was always overrated to me. He has like five jokes he's written that I like. But you know I'll go along with it, if it gets me spots. I just think he's overrated. To me, it was like the emperor's new clothes came off. In the hotel room.
He stated during the chat that he feels labeled as a "misogynist" because of his work on Stern and shared a story illustrating how zero tolerance his family is regarding sexual abuse. Lange's interviewer, Mandy Stadtmiller, asked if there was an element of schadenfreude in seeing Ansari's fall from grace. Lange provided a rather candid response.
I'm probably one of those guys. I thought he could follow me on Bitter. I don't like bashing of comedians in general. I hated the Dane Cook-bashing thing. And Dane goes on to make all that money, and that bitterness comes out. Then his brother steals millions of dollars from him. I wish Dane well. And you know, I think Aziz gets a lot of that bitterness, too. You know, his timing is perfect for comedy. But what he does at the Comedy Cellar is not going to endear him to anybody. What he does there, he sits in the corner like a young Dylan writing jokes, and he can do that at home. We get it. You're a hard worker. But I guess we're going to have to get over that, because a new generation of people is coming.
It's a wide-ranging and fascinating interview with Artie Lange with so much more than his viewpoint on Louis C.K. and Aziz Ansari. Of course, Lange's own history of inappropriate behavior hovers overtop any conversation he has.
(Via The Daily Beast)