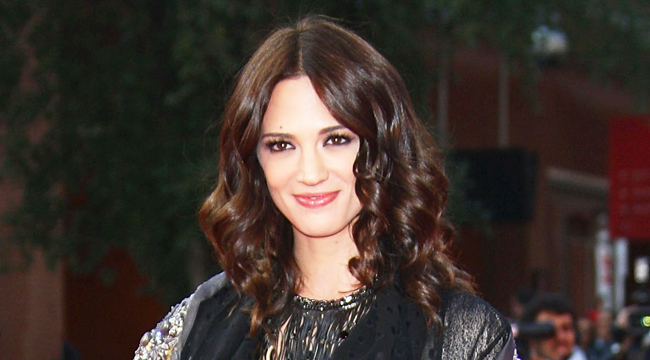 Asia Argento, Italian actress and prominent Harvey Weinstein accuser, is speaking out a few days after a report from the New York Times revealed a $380,000 settlement between herself and former child actor Jimmy Bennett. Food writer Kim Severson had published details of anonymously leaked legal documents, which contained allegations that Argento had sexually assaulted Bennett — by pushing him onto a bed, performing oral sex on him, and then climbing on top of him for intercourse — in 2013 while he was 17 years old and she was 37 (after she played his mother in a 2004 film).
In a statement to New York's Yashar Ali, Argento now denies sexually assaulting Bennett and is "deeply shocked and hurt" by what she calls an "absolutely false" report. She further states that Bennett made his accusations only after she entered the Weinstein-related spotlight. Argento then claims that her late boyfriend, Anthony Bourdain, paid hush money to Bennett out of concern about "possible negative publicity." Part of Argento's statement follows:
"I was linked to [Bennett] during several years by friendship only, which ended when, subsequent to my exposure in the Weinstein case, Bennett — who was then undergoing severe economic problems and who had previously undertaken legal actions against his own family requesting millions in damages — unexpectedly made an exorbitant request of money from me. Bennett knew my boyfriend, Anthony Bourdain, was a man of great perceived wealth and had his own reputation as a beloved figure to protect.

"Antony [sic] insisted the matter be handled privately, and this was also what Bennett wanted. Antony [sic] was afraid of the possible negative publicity that such person, whom he considered dangerous, could have brought upon us. We decided to deal compassionately with Bennett's demand for help and give it to him. Anthony personally undertook to help Bennett economically, upon the condition that we would no longer suffer any further intrusions in our life."
The NY Times piece made explicit mention of photos taken by Bennett, which showed himself and Argento topless in bed together. According to the legal docs, the terms of the settlement dictated that Argento take control of these photos (taken at the Ritz-Carlton in Marina del Rey), but TMZ claims to have viewed these images, and Argento also Instagrammed a photo of their faces, calling this reunion with Bennett the "happiest day of my life" while claiming to have cast him in her next film.
In addition, TMZ has published details from some purported texts between Argento and Bourdain while they were discussing Bennett. Bourdain does appear to have agreed to pay the money while Argento admits that something sexual happened and claims that Bennett was the aggressor:
In discussing the settlement — which ended up to reportedly be $380,000 — Argento confesses, "I am also broke." Bourdain makes it clear he's handling the negotiations, instructing Argento to take a call from a rep who is involved in the matter.

Asia, at one point, seems to contradict her claim she never had a sexual relationship with Bennett, saying, "It wasn't raped (sic) but I was frozen. He was on top of me. After he told me I had been his sexual fantasy since he was 12."
According to TMZ, these texts don't mention the photos that were taken back by Argento as a key element of the settlement. In addition, Bourdain reportedly told Argento that she wasn't purchasing silence, "only freedom from inconvenience." He added, "And to help a 'poor twisted goof' get his life together."
Several people on Twitter are pointing toward some inconsistencies in Argento's handling of the settlement report:
You can read Argento's full statement to Yashar Ali below.
(Via Yashar Ali on Twitter & TMZ)