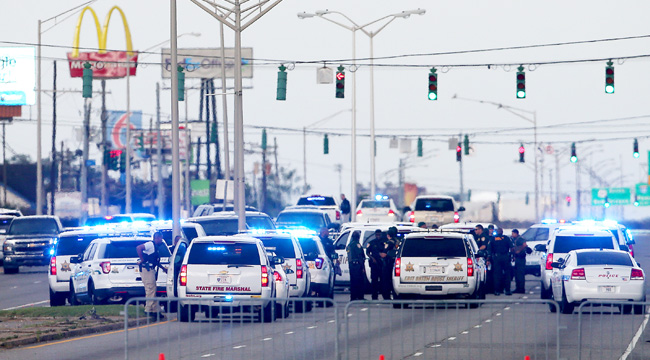 On Sunday morning, a previously unidentified gunman killed three Baton Rouge police officers with an assault rifle. Throughout the day, little information was released about the suspect, who was killed by law enforcement in a shootout during the attack. Now news outlets are revealing his name and other information about him.
According to CBS News, the suspected gunman is named Gavin Eugene Long. He was from Kansas City, Missouri and was a black male who carried out the shooting on his 29th birthday. He reportedly attacked police at a gas station on Airline Highway where protests had been held following the shooting death of Alton Sterling by a Baton Rouge officer. Personnel from both the Baton Rouge PD and East Baton Rouge Sheriff's Office were affected in Sunday morning's attack, and three officers died.
This shooting comes after multiple threats were made to the Baton Rouge police department after Sterling's death. Police had arrested three people who had reportedly stolen guns from a local pawn shop in order to target officers.
Heavy.com has a little more personal information on who Long was. He had apparently attended the University of Alabama and had divorced his wife in 2011. He was reported to have been wearing all black with his face covered, and was "shooting indiscriminately." The LA Times also quotes an anonymous law enforcement source who describes Long as a "black separatist."
CBS reports that while there is no active shooter in the area, police are still looking for other suspects.