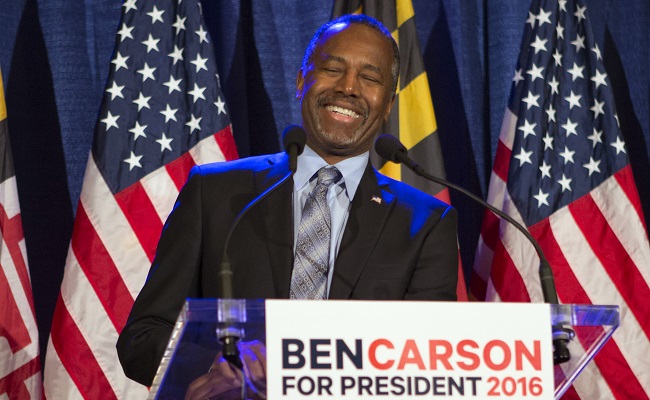 Non-first place finisher Ted Cruz was still happy enough to give a victory speech after Super Tuesday, but not fellow candidate Ben Carson. Instead of celebrating the day's polling results from 11 states, the retired neurosurgeon-cum-Republican White House hopeful retreated to his campaign staff to try to figure out what to do. First he called for a "huddle" involving himself and the four remaining GOP candidates, then several sources affiliated with his camp suggested that he was either about to exit Thursday's Fox News GOP Debate in Detroit, drop out of the race altogether, both or neither.
Despite an op-ed he penned on Monday saying otherwise, Carson and his campaign have been dogged with internal and external requests (or "offers") to drop out of the Republican nomination race. Yet a new report published by Politico Wednesday morning implied that Carson's own people were telling him to quit the race. "It's not about a pathway to him. There is no pathway," longtime friend and adviser Armstrong Williams told the political blog. "No one has a pathway to the nomination except Donald Trump… They're all in the same boat."
The Politico article amounted to speculation based on a supposed campaign confidant's word, and the media at large thought nothing of it. At least, that was until the Washington Post, NBC News and several other major outlets corroborated Williams' comments with remarks from other sources close to the Carson campaign. Per the Post, the Republican candidate was intending to "tell his supporters in a statement Wednesday afternoon that he does not see a 'path forward' and will not attend Thursday's debate in Detroit." The specific language, which came from "two Republicans familiar with [Carson's] plans," mirrors what Williams told Politico earlier.
Meanwhile, NBC News confirmed Carson's departure from the Fox News GOP Debate in Detroit.
Carson then released an official statement on his official website, saying that he had "decided not to attend the Fox News GOP Presidential Debate tomorrow night in Detroit" because he did "not see a political path forward in light of last evening's Super Tuesday primary results." That being said, he didn't say he would be dropping out of the race for the nomination, and affirmed his commitment "to Saving America for Future Generations."
An invited speaker at the Conservative Political Action Committee's (CPAC) conference in Washington, D.C. on Friday, Carson will "discuss more about the future of this movement" during his speech. Whether or not "this movement" refers to his presidential campaign, or something else entirely, remains to be seen.
(Via Politico, Washington Post, NBC News & Ben Carson)