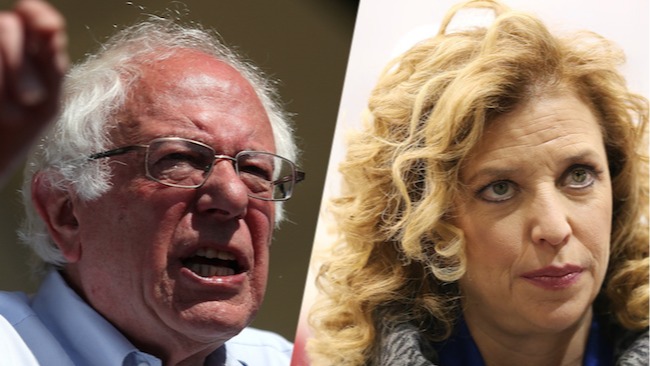 A new trove of internal Democratic National Committee emails, stretching back to April 2016, released by Wikileaks show that the organization's senior staff chafed at Bernie Sanders's continued presence in the presidential primary. Staffers were also irritated by criticism that they were biased towards Hillary Clinton.
In May, chairwoman Debbie Wasserman-Schultz (DWS) reacted to an MSNBC anchor criticizing her treatment of Bernie Sanders during the Democratic presidential primary by trying to force her to apologize.
On May 18th, DNC staffer Kate Houghton forwarded to Wasserman-Schultz a Breitbart News story highlighting remarks by MSNBC anchor Mika Brzezinski in which she called for the chairwoman to step down over perceived bias against Sanders during the presidential primary.
Wasserman-Schultz reacted angrily, writing that this was the "LAST straw" and instructing communications director Luis Miranda to call MSNBC chairman Phil Griffin to demand an apology from Brzezinski.
Miranda noted that Wasserman-Schultz had reached out to NBC's Meet the Press moderator Chuck Todd on the subject earlier. You can see that email below:
Later in the day, Miranda sent a follow up email to Todd laying out a memo trying to convince him that Wasserman-Schultz was not in fact unfair to Bernie Sanders. Todd asked him if a call with Brzezinski was really a "good idea."
Miranda tried to de-escalate the situation, telling him that "if Mika just doesn't like [Wasserman-Schultz], I'm not sure it's worth either of their time":
Annoyance at Bernie Sanders and his fans is a reoccurring theme in the emails.
Three weeks prior to the Democratic primary in California, the largest primary of the contest, DNC staffer Mark Paustenbach, the organization's national press secretary, sent an email to Miranda pitching an anti-Bernie story that the candidate "never got his act together, that his campaign was a mess":
A day earlier, Miranda complained that Sen. Claire McCaskill, D-Missouri, had "no backbone" for complaining that DNC head Wasserman-Schultz shared some responsibility for divisiveness in the party.
Paustenbach was trying to respond to a press inquiry about a raucous Nevada state convention where the news media and opponents of the Sanders campaign complained that there was violence, including thrown chairs, that didn't actually happen:
When Sanders campaign chair Jeff Weaver appeared on cable news to defend the conduct of Sanders backers at the Nevada convention, Wasserman-Schultz reacted harshly, writing: "Damn liar. Particularly scummy that he barely acknowledges the violent and threatening behavior that occurred." There was no apparent effort made to actually investigate the claims against Sanders.
As early as the end of April, the DNC was mocking up emails to message to their base about the end of Sanders's campaign. Eric Reif, a digital staffer at the organization, sent around an email template that would be used by chairwoman Debbie Wasserman Schultz:
DNC Deputy Communications Director Eric Walker, however, mocked as "#bernieclickbait" the idea that the DNC was tipping towards Hillary Clinton:
The emails also show internal pushback on major Sanders causes such as holding more debates and ending superdelegates.