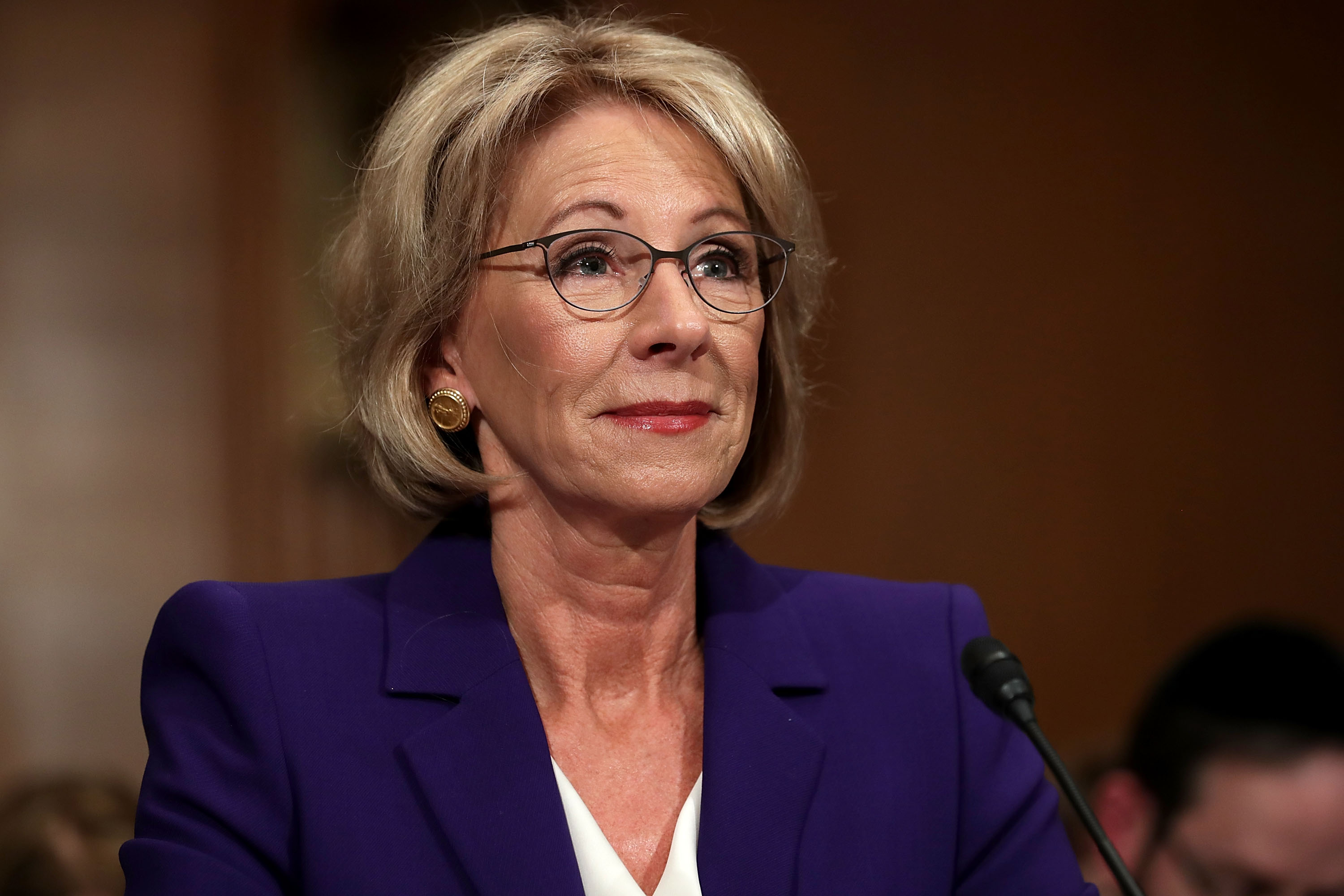 After meeting with "men's rights groups" this summer, Education Secretary Betsy DeVos announced on Thursday that she was going to change the way that sexual assault is investigated and adjudicated on college campuses "to ensure that such procedures are fair to all students." Via the Washington Post:
"One rape is one too many," DeVos said firmly, but she also repeatedly emphasized the rights of students who are accused, saying one person denied due process is one too many.

"Every survivor of sexual misconduct must be taken seriously," she said. "Every student accused of sexual misconduct must know that guilt is not predetermined.

"These are non-negotiable principles."
DeVos said that the Education Department would seek public input to create a "more effective and just system."
In July, DeVos raised eyebrows when she said that "stories are not often shared" from students falsely accused of sexual assault, despite the fact that false reports make up less than 10% of sexual assault allegations, a large fraction of sexual assaults go unreported, and accusers face an uphill battle when they file a report.
The Obama administration issued a directive that allowed for victims to file Title IX complaints if their school wasn't handling a sexual assault complaint properly. Critics said that directive went too-far and created a de facto court system on campuses:
Rather than the "beyond a reasonable doubt" standard used in criminal cases, or the "clear and convincing" standard some universities had previously used for sexual assault investigations, schools now must use a "preponderance of the evidence" standard, often described as "50 percent plus one," when determining responsibility in such cases.
Supporters of the directive said it was reasonable because if found "guilty," a student was found to have violated school policies but not criminally liable:
"There is a learning curve,"Laura Dunn, the founder and executive director of the advocacy group SurvJustice, said. "But gutting things, changing things from scratch, going back to what it was before, when schools didn't fear enforcement unless there was a lawsuit," would be a giant step backward, she said.
At a small protest outside of DeVos' announcement at George Washington University, a survivor's rights advocate said no one from their organization or similar organizations was invited to Devos' event.
(Via Washington Post)