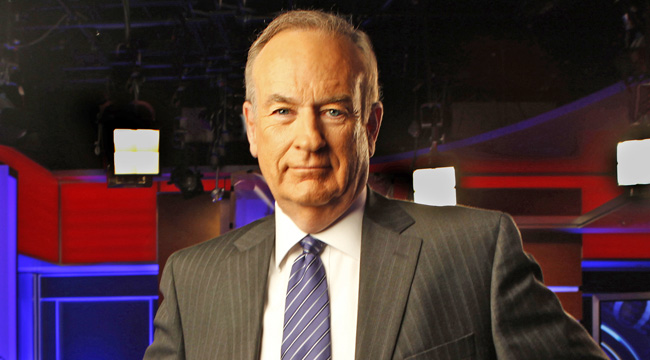 Bill O'Reilly may have walked away with a "staggering" golden parachute, but that doesn't mean he's happy about being pushed out of Fox News. Obviously, he's gotta be incensed, and this probably isn't as much about money as it is about ego. His team was trying to save his job, as a set of emails — leaked "by mistake" to Politico — revealed. One note even showed that O'Reilly was disgusted by what was about to befall him, and he was fighting back.
O'Reilly publicly pretended to be fine, of course, with his own post-firing statement, in which he came off as respecting the network. He puffed up his chest with pride and wished his colleagues well while shrugging off the sexual harassment accusations as "unfounded claims," which are just part of being famous or something. Behind the scenes and while waiting to hear about his future, however, he sought to prove that there was a left-wing "smear campaign" to get advertisers to drop him.
Of particular note is how the host wanted to wait to show emails about this campaign to Rupert Murdoch, and here, O'Reilly acted like Fox News was treating him terribly. From Politico:
"If we show to Fox tomorrow, word will get out and the Thursday call may be cancelled," O'Reilly wrote in an April 18 email exchange that was forwarded to POLITICO on Wednesday night by a member of O'Reilly's legal team at Kasowitz, Benson, Torres & Friedman, but which a representative for O'Reilly subsequently said had been sent by mistake.

"So no formal sending to Rupert until after the call," O'Reilly continued, before venting: "You all should know that I will not put up with much more from FNC."
Soooo, was the forwarding of these emails truly accidental? It doesn't seem feasible that O'Reilly's attorneys would send messages to a reporter and not know what they were doing. This is probably some butt covering while allowing the jilted O'Reilly to air his feelings out since he wasn't allowed to return for one evening and say goodbye to his long-term audience.
This perceived slight arrived after O'Reilly allegedly behaved in a predatory manner for many years and then (along with Fox) shelled out a $13 million cumulative total to silence five accusers. It might be time to break out the world's tiniest violin.
(Via Politico)