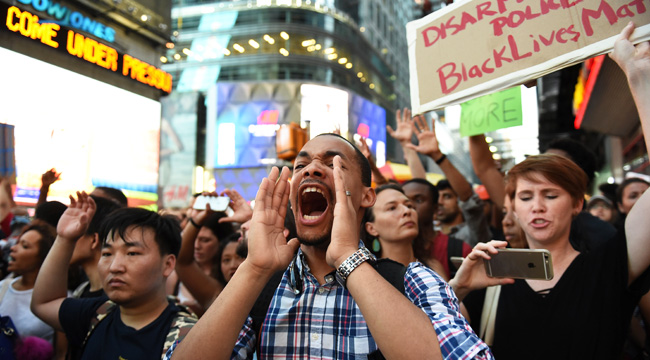 This week has seen two well-publicized — due to the power of social media — police shootings that resulted in the death of both black male victims. Early Tuesday morning, Alton Sterling was killed in Baton Rouge, Louisiana after being pinned down by officers although he did not have a gun in his hand. And on Wednesday night, Philandro Castile was shot during a routine traffic stop. His girlfriend's livestreamed video showed that the officer continued to threaten him with a gun as he suffered.
Both men are remembered by the people who love them. Sterling was a father of five, and Castile was cherished by many children at the elementary school where he worked. Both of these senseless killings have sparked protests, and now New York City is taking its anger to the streets. A massive amount of Black Lives Matter protesters gathered in Times Square and Union Square, both in honor of the two recently departed men and all those who have lost their lives to police brutality. Photos from the former location are incredible with so many people gathered for a single cause.
It didn't take too long before police began arresting protesters.
Over at Union Square, the crowd's presence was more than palpable by 5:30pm. Twitter users uploaded photos as over 1,000 protesters gathered in Union Square.
The protest grew so overwhelmingly large that it shut down 5th Avenue.

Protesters are still gathering at this time, and they will not be silenced.