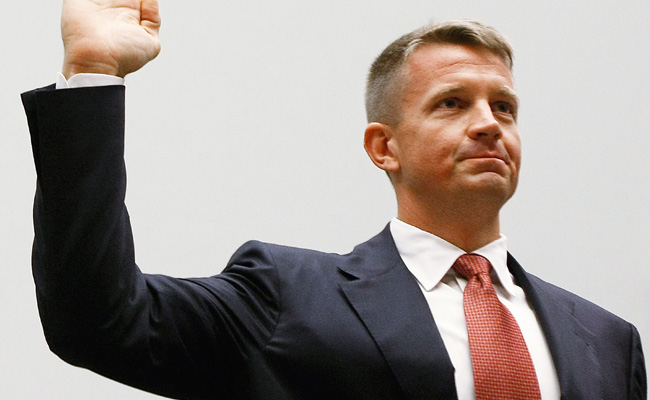 Erik Prince is back in the news, which is probably not great news for Erik Prince. The founder of the mercenary company Blackwater, who of late has found himself stuck inside the ever-expanding web of the Trump campaign's ties to Russia, is now admitting part of what the Washington Post reported this time last week; that Prince met with an ally of Russian President Vladimir Putin in the Seychelles islands while then-President-elect Donald Trump was putting the final touches on his transition to the White House.
In a Financial Times interview that was published on Monday, Prince admits to attending the secret meeting with the crown prince of Abu Dhabi, Sheikh Mohamed bin Zayed al-Nahyan, that was reportedly arranged by the United Arab Emirates. Yet he disputes that the meeting had anything to do with establishing a back-channel line of communication between Moscow and President-elect Donald Trump:
Prince admitted an "incidental" meeting but denied anything of consequence was discussed, blaming "permanent seditious bureaucrats" in the US intelligence community for leaking the information.
The Washington Post reported that the meeting was set up by the UAE in an attempt to get information on Russia's future intentions with Trump in the White House, mainly pertaining to its relationship with Iran and Syria. These meetings would have likely featured a negotiation that included the United States putting the removal of Russian sanctions on the table, something Prince would have no authority to do. Prince has reportedly bragged in the past about how close he is to the Trump team, even before his sister, Betsy DeVos, became States Secretary of Education.
In response to the original story that the Washington Post published, a spokesman for Prince released a statement:
"Erik had no role on the transition team. This is a complete fabrication. The meeting had nothing to do with President Trump. Why is the so-called under-resourced intelligence community messing around with surveillance of American citizens when they should be hunting terrorists?"
(Via Financial Times)