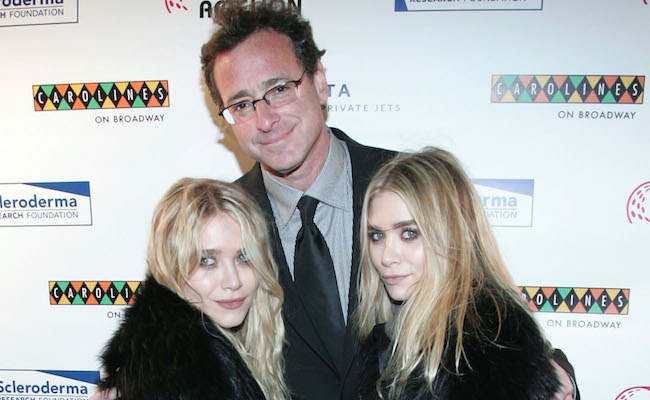 Here are the two main things people are talking about when it comes to Mary-Kate Olsen's Friday wedding in New York to impressively-foreheaded French banker Olivier Sarkozy:
1) The matrimonial decor featured "bowls and bowls filled with cigarettes" cuz French stereotypes ahoy!
2) It didn't sound like any of her non-twin Full House co-stars made the invite list. Y'know, aside from Comet's ghost.
The details of who made the 50-person guest list are still hazy, but Mary-Kate's TV dad Bob Saget told Today that he didn't make the cut. He didn't sound too bummed about missing the whole knot-tying thing, though.
"I was not invited, but I'm very happy and I sent a Mazel tov text. I'm very happy. I love her very much. I hope they're happy."
It's the first marriage for Mary-Kate and the second for her newly-minted husband. (She's 29 and he's 46 so that checks out statwise.) In case you wanted confirmation, Olivier Sarkozy is the half-brother of former French President Nicolas Sarkozy.
It was revealed earlier this year that the Olsen Twins will not be a part of the upcoming Full House small screen sequel Fuller House due on Netflix in 2016. We'll give you a moment to bemoan the status of predictability in the form of Miller-Boyett musical offering.
(Via E!)