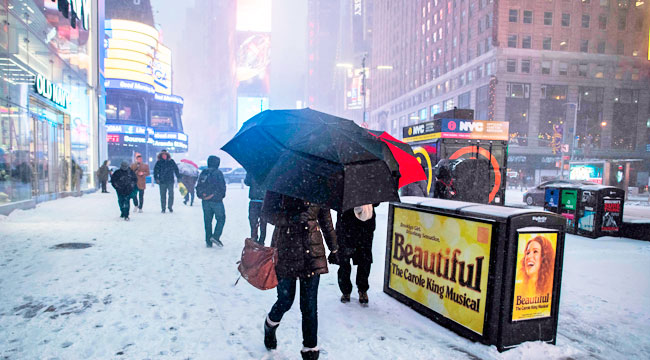 The deadly cold that has claimed at least 16 lives throughout the U.S. is now wreaking havoc on the East Coast in the form of Winter Storm Grayson, which has crippled utilities, leaving many thousands without power in the Southeast. Now, the system is in full "bomb cyclone" status, which is a dramatic term for a system that prompts a rapid pressure drop that causes an explosive gain in strength. Essentially, this means that storm will be fueled by winds of up to 60 mph, which is already happening in Cape May, New Jersey.
In New York City, relatively peaceful early morning snowfall transformed into a wind-whipped scene and near-whiteout conditions that forced JFK Airport to temporarily close "due to heavy snow, ice and harsh winds." FAA officials hope to reopen the airport by late Thursday afternoon but are holding tight for now.
In anticipation of up to a foot of snow, New York Governor Andrew Cuomo has declared a state of emergency for New York City, Long Island, and Westchester. He also warns motorists to stay safe while adding, "This is not a normal storm."
Early this morning, meteorologist Keith Carson shared this satellite image of the "bomb cyclone," and although the term has prompted plenty of eye rolls, it does look impressive in this graphic.
NYC saw massive delays for morning commutes with several subway trains seeing mechanical and weather-related disruptions. According to the Wall Street Journal, conditions are expected to worsen although 2,000 snow-chain laden buses are now on the streets. As for the rest of the East Coast, the National Weather Service has tweeted a map showing what snow totals to expect throughout Thursday. Boston (which is seeing flooding from the rising tide) and Maine could see accumulations of anywhere from 12-18 inches, and then the digging out shall begin.
For now, folks are still enjoying the Manhattan snow on social media.