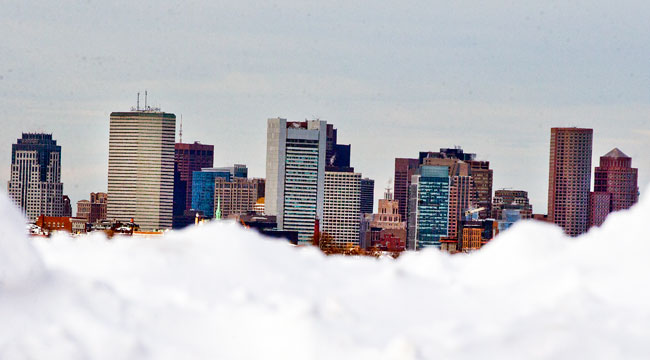 The extreme cold temperatures blanketing most of the U.S. this week have turned even more fatal with at least 11 deaths now attributed to the frigid air. On top of that tragic news, a monster storm will soon strike the Northeast. From New England all the way to parts of Florida, snow and sleet will begin to fall across the coastline on Wednesday through the rest of the week. Even Georgia has declared a state of emergency, and Tallahassee (which hasn't seen measurable snow since 1989) is prepping for unfamiliar territory with a few inches of the white stuff. Further north, the effects might be devastating.
The impending storm has already earned a fair amount of notoriety before its arrival. While CNN favors calling it a "bombogenesis," the Washington Post describes it as a "bomb cyclone." Boston may get hit particularly hard, so the Boston Herald is straight-up labeling the beastlike weather phenomenon as a "Goliath," a "powerhouse storm," and a "winter hurricane" during an interview with the Weather Channel's Jim Cantore:
"[W]e need to see how it develops. It can really explode, but it's too early to tell if Boston will have significant snowfall. This is a winter hurricane. It's a very dynamic storm packing high winds and below-zero wind chills. It's insane. This has the potential to really explode, but don't just focus on the snowfall. The wind and the cold — and the cold after — will be big … [from there,] say a prayer for our friends in the Canadian maritimes. They're going to get whacked."
The Washington Post further explains that the "bomb cyclone" label fits because the storm's pressure will drop so rapidly that it will gain explosive strength. Yet no matter the name, the Northeast is expected to receive up to a foot of snow with wind gusts ranging from 40-60 mph. As a result, residents who find themselves within the swirling winds are advised to stay away from windows during high-wind warning phases of the storm. Along most of the coast, state of emergency alerts will see authorities urge people to stay inside.
The bitter cold is also expected to continue punishing much of the country for another week. After 90% of the U.S. didn't see temps reach freezing on New Year's Day, the unusually cold air has even hit Pensacola, Florida, where this frozen pool was indeed a rare sight.
Of course, the sheer anomaly of frozen water will pale in comparison to what the Northeast might feel over the coming days. Please stay warm, everyone.
(Via CNN, Washington Post & Boston Herald)