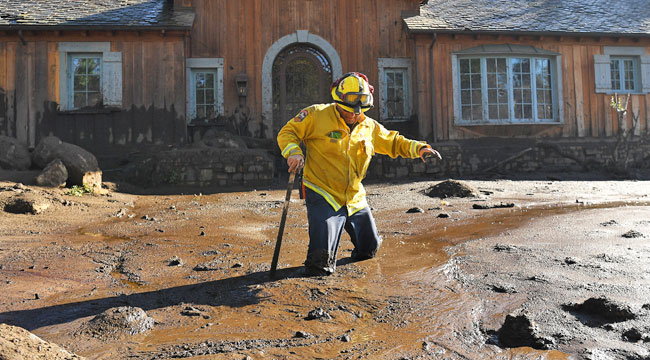 Southern California's fire-parched landscape transformed into a treacherous disaster zone on Tuesday as deadly mudslides claimed 17 lives and injured dozens while sweeping homes from their foundations and prompting 600 emergency calls after many refused to evacuate. The casualties and destruction from mudflow (up to waist-deep in some spots) centered within Santa Barbara County's Montecito community, where both Oprah Winfrey and Ellen DeGeneres maintain homes.
So while everyone was still freaking out over the possibility of Oprah 2020, she was surveying damage to her property. In this Instagram video, she points toward the utter devastation of her neighbor's home and counts herself lucky that her property only received minor damage from the sea of mud:
Indeed, Winfrey considered herself fortunate for good reason. The mudslides destroyed at least 100 homes and damaged 300 more. Fellow daytime talk maven DeGeneres still doesn't know how much damage her home sustained, for she and wife Portia DeRossi were not on the premises when all hell broke loose. A "heartbroken" and "devastated" Ellen did tweet some photos of what looks like a literal river of mud running through her street.
CNN reports that rescuers are still searching for missing people (8 remain unaccounted for) while last remaining rescues (of 300 total trapped people) continue. The U.S. Coast Guard assisted in these efforts via helicopter for those residents who made it to their roofs, but it's understood that some people are still trapped from exiting their homes by debris.
In addition, Santa Barbara County Fire Department Public Information Officer Mike Eliason shared some incredible video footage of the boulder-filled runoff in Montecito and ongoing rescue efforts with a search dog.
#CAstorm– Deadly runoff of mud, boulders, and debris destroyed homes that lined Montecito Creek near East Valley Road. pic.twitter.com/yPVkbNEb3t

— SBCFireInfo (@EliasonMike) January 11, 2018
#CAstorm– Santa Barbara County Firefighter's use a search dog to look for victims where multiple homes once stood in Montecito following flooding due to heavy rain. pic.twitter.com/xZcI4PNmej

— SBCFireInfo (@EliasonMike) January 9, 2018
We will, of course, keep you updated on further updates to this disaster.