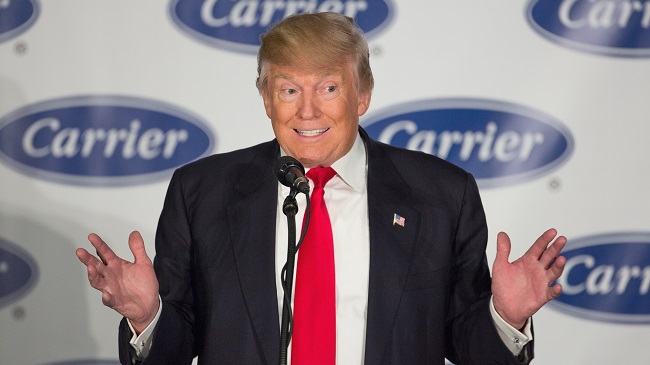 His random daily tweets notwithstanding, one of President-elect Donald Trump's more popular talking points as of late has been his "deal" with Carrier to keep around 1,000 jobs in the United States. Many critics — including right-wing ally Sarah Palin — have dubbed the business mogul's boast as nothing more than "crony capitalism." Yet Trump's supporters have come out in droves to praise his and Vice President-elect Mike Pence's efforts in Indiana — except, of course, for the Carrier union leader who came clean with the Washington Post in a recent interview.
Chuck Jones, who currently serves as president of United Steelworkers 1999, recalled a meeting at which Trump "was supposed to lay out the details" and "explain himself." Instead, something far more disappointing occurred:
"But he got up there," Jones said Tuesday, "and, for whatever reason, lied his a– off."

In front of a crowd of about 150 supervisors, production workers and reporters, Trump praised Carrier and its parent company, United Technologies. "Now they're keeping — actually the number's over 1,100 people," he said, "which is so great."
"Trump and Pence, they pulled a dog and pony show on the numbers," continued Jones, adding: "I almost threw up in my mouth." For while the next President and Vice President of the United States could justifiably claim to have prevented 800 Carrier jobs (including non-union positions) from going to Mexico, the gradually increasing numbers repeatedly cited by Trump at rallies and in interviews weren't accurate at all.
Per a Carrier spokesperson's confirmation to the Post, the 1,350 jobs reportedly at stake included 350 research and development jobs weren't included in the list of positions slated for export. Another 80 "non-union clerical and supervisory positions" Trump supposedly added to his ballooning tallies, were also not included in the actual slate of 800 saved jobs.
(Via Washington Post)