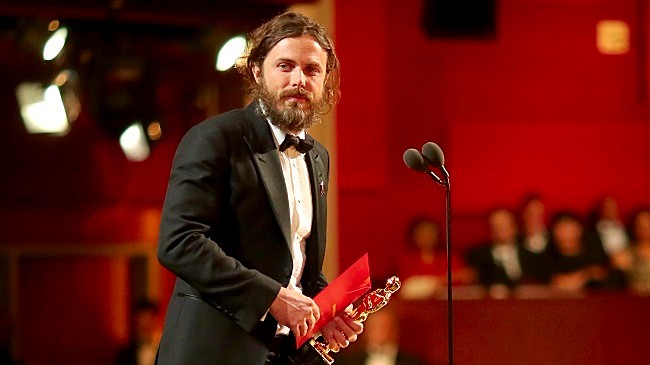 Casey Affleck, last year's Best Actor Academy Award winner for his stirring, emotional role in Manchester By the Sea, has decided not to present the Best Actress trophy at this year's Oscars telecast. Traditionally the previous year's Best Actor recipient will present the current year's Best Actress Award, and vice versa. However, according to Deadline, Affleck felt his presence would "become a distraction from the focus that should be on the performances of the actresses in the category." Why? Because of the sexual harassment allegations levied against him, and the burgeoning #MeToo and Time's Up movements.
The Hollywood Reporter subsequently confirmed Deadline's report, adding that Affleck had officially "withdrawn from this year's Oscars ceremony" altogether. What's more, Oscars telecast producers Michael De Luca and Jennifer Todd had apparently "been considering departing from tradition when it comes to presenting the acting awards this year." For despite the regularity with which previous Oscars ceremonies have given previous winners the task of revealing their successors, many past programs have also opted for different practices altogether.
During the 2017 Oscars season, allegations of sexual harassment were made against Affleck by two women he had worked with on the set of the 2010 faux documentary I'm Still Here. Accusing him of "uninvited and unwelcome sexual advances in the workplace," the women's claims were exacerbated by the awards season's focus on Affleck's performance in the Kenneth Lonergan-directed film.
(Via Deadline and The Hollywood Reporter)