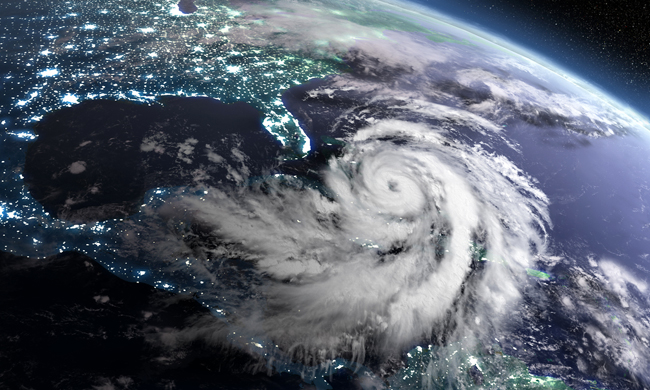 In this brave new world of viral hoaxes and widespread information (if only we had a term for that), you may have seen headlines on social media in full doom and gloom mode declaring that Hurricane Irma, which is currently barreling through the Caribbean and heading towards Florida to widespread evacuations at a Category 5 level, is poised to become an unprecedented Category 6 hurricane. Well, there's good and bad news. Yes, at sustained winds of 185 miles per hour, Irma is potentially the most powerful Atlantic hurricane on record. But even then, a Category 6 hurricane simply does not exist, nor will it ever exist.
Joel Myers, the founder and president of AccuWeather, told the New York Times this week in plain language that the scale was developed from 1 to 5, and that "when you develop a scale 1 to 5, there can't be any Category 6."
The purpose of the categories, known as the Saffir-Simpson scale, is to quantify a hurricane's destructive power, and the destructive power of a Category 5 hurricane — one with sustained winds of at least 157 miles per hour — is virtually total. "A high percentage of framed homes will be destroyed, with total roof failure and wall collapse," Dennis Feltgen, a spokesman for the National Hurricane Center, wrote in an email. "Fallen trees and power poles will isolate residential areas. Power outages will last for weeks to possibly months. Most of the area will be uninhabitable for weeks or months."
In other words, if a Category 5 is catastrophic, as Feltgen says, what is left after catastrophic? Reassuring words, indeed. But that's not the only misinformation going around as we prepare for Irma's wrath, because there are also fake forecasts that have recently circulated, such as this one pointed out by the National Weather Service's Twitter account:
Last week, a fake, now-deleted map showing Irma making landfall in the already ravaged city of Houston got tens of thousands of shares on Facebook. This demonstrates the importance of only getting news from official meteorological sources, and not what your crazy aunt shares on Facebook.
On that note, during the hurricane and its aftermath, you're probably going to see lots of viral videos floating around, like the infamous Houston highway shark that even fooled the likes of Fox News' Jesse Watters (who seems … admittedly not that difficult to fool, but that's besides the point). Hoax videos are already starting to make the rounds on Facebook such as the one below, which purports to show Irma touching down in the Caribbean Island of Barbuda — but in fact was uploaded to YouTube more than a year ago. Yet, at the time of this writing the video has gotten well over 20 million views.
Sorting through the myths and facts really isn't that difficult as long as one remains diligent at fact checking, and if something appears to be too good, crazy, or shocking to be true, then the likelihood is that it actually is.
(Via New York Times, Washington Post)