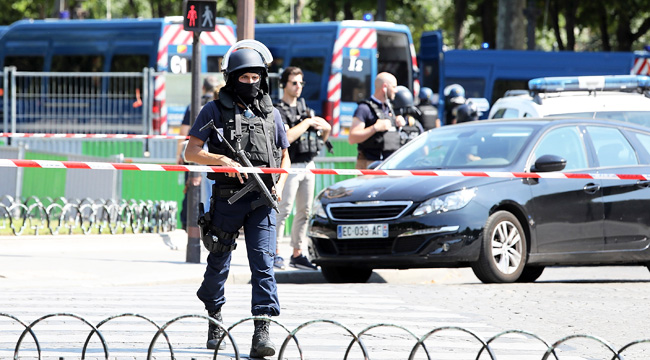 Four relatives of the man who rammed his car into a police van at the Champs Elysées have been arrested, according to French authorities. The attacker died on the scene where he rammed his car into a police van, but the police investigating have found that, although he was on a terrorist watch list, the attacker was legally able to acquire numerous weapons.
The arrest of the attacker's father, brother, and two other family members in what Reuters describes as "a raid south of Paris" is a step forward for authorities investigating the attack, but the incident presents some troubling perspective on how much more needs to be done to prevent similar terrorist actions.
"Nobody can be happy, and certainly not me, that someone who has been flagged to security agencies can continue to benefit from such an authorization," said Prime Minister Edouard Philippe.
The problem, of course, is that government authorities are in a bit of a Catch 22 when it comes to denying or canceling gun permits — doing so could tip off the suspect. As Philippe explained, "If you revoke the authorization of someone who is under surveillance, they're going to know why." That could compromise investigator's ability to monitor a suspect's activities and associations.
The other problem is what to do about gun licensees issued and weapons sold before an individual ends up on Fiche S, France's terrorist watch list. When the attacker drove his car into the police van, he was carrying an assault rifle, two pistols, and ammunition, as well as two large gas canisters.
French authorities are aware of the loop hole and have been trying to close it as much as possible as recently as last month. The hope is to pass legislation that would better enable those doing background checks for gun licenses access to the Fiche S watch list. France is also considering other options for how they can reduce the number of terrorist incidents at a moment when it seems that Europe is seeing an uptick in such attacks.
(Via Reuters)