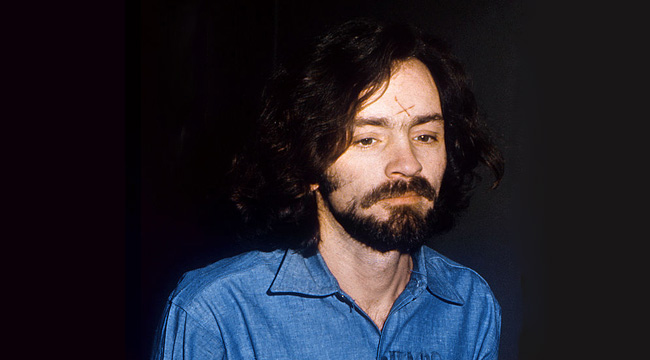 Mass murderer Charles Manson was hospitalized on Wednesday night in Bakersfield, California at the age of 83, according to a report from the LA TImes. Local authorities were able to confirm that Manson remains alive, but they couldn't comment upon his condition. However, TMZ quotes a source who says Manson's condition isn't expected to improve. Further, the source adds that he's been "steadily deteriorating," and "it's only a matter of time."
Manson has experienced a number of serious health issues within the past few years. Most recently, he was deemed too weak for surgery on intestinal bleeding earlier this year. The latest grave turn of events follows 46 years behind bars for the psychopath, who was convicted — along with members of his "family" — of murdering Sharon Tate (who was eight months pregnant at the time) and six others in 1969. He was sentenced to the death penalty, which was changed in 1972 to life without parole.
Over the decades, Manson has been denied parole twelve times, and during his time behind bars, he has been nothing less than a pain in the butt for corrections staff and officials. The cult leader has racked up over 100 rules violations over the decades and has exhibited violent behavior by fighting with other prisoners, setting fires, and throwing hot coffee on guards. Of late, his frail condition led him to abandon such antics, although he still managed to draw tabloid interest through his interactions with the outside world, which now awaits further developments on Manson's condition.