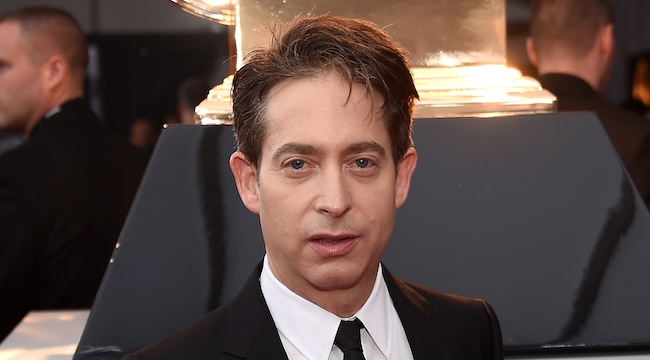 Charlie Walk, Republic Records Group president and a judge on Fox's singing competition show The Four, has been placed on leave by the label in the wake of allegations of sexual misconduct made against him, Variety reports. This news comes after an open letter that was published on Monday by Life Lab founder Tristan Coopersmith, who Walk used to work with at Columbia Records, and a second allegation by another woman, a marketing executive who spoke out anonymously.
Republic Records has shared the following statement:
"Republic Records is committed to a safe workplace environment where employees are treated fairly and respectfully. We have retained an outside law firm to conduct an independent investigation of this matter and have encouraged anyone who has relevant information to speak to the firm's investigators. Mr. Walk has been placed on leave, and will remain in leave for the duration of the investigation."

Walk has responded to the allegations by denying them and saying he will not appear on the upcoming finale of The Four so as to not be a distraction:
"Out of respect for the contestants, my fellow judges and everyone involved with the show, I have made the decision not to attend the finale of The Four. I do not want my presence to be a distraction. Needless to say this is very upsetting. Although I continue to support the 'Me Too' movement, there has been an extreme rush to judgment against me in this particular case which is unfair and inconsistent with anything that even actually happened. I welcome any investigation so that in short order these unfounded and hurtful accusations can be put to rest."
Walk also gave an initial response more shortly after the first allegations were made public, in which he cited his clean HR record and called the accusations untrue:
"It is very upsetting to learn of this untrue allegation made by someone who worked with me 15 years ago, without incident. There has never been a single HR claim against me at any time during my 25+ year career, spanning three major companies. I have consistently been a supporter of the women's movement and this is the first time I have ever heard of this or any other allegation — and it is false"
Fox also responded to the first wave of news, saying on Monday, "We have only recently learned of these past allegations regarding Mr. Walk. We are currently reviewing this matter and are committed to fostering a safe environment on all of our shows."
In her open letter, Coopersmith wrote that while Walk offered her appealing career opportunities as just 27 years old, he also made her "feel sick to [her] stomach almost every day":
"For a year I shuddered at the idea of being called into your office, where you would stealthily close the door and make lewd comments about my body and share your fantasies of having sex with me. I was 27. No previous experience had taught me what to do in such a situation. So I laughed it off, gently reminded you that you were married with children, and tried to change the subject.

But you were relentless. You would instant message me throughout the day making sexual remarks. Truly vulgar words and ideas. Pervasively. You invited me to dinners that in hindsight I had no business being at, but you did it so that you could put your hand on my thigh under the table, every time inching it closer and closer to my sacred place. You did it so you could lean over and whisper disgusting things into my ear and I had to smile so that no one suspected anything. On multiple occasions, your wife was sitting right across from us.

And then there was that event at your swank pad when you actually cornered me and pushed me into your bedroom and onto your bed. The bed you shared with your wife… your wife who was in the room next door. You being drunk and me being 6 inches taller was my saving grace."
As for the second set of allegations, Deadline reports that the woman received inappropriate photos and videos from Walk via Snapchat:
"Walk reportedly invited her to meet him at the Wilshire Hotel [after she had been laid off at Universal]. She asked what was happening there, thinking it was a party, and he responded with explicit photos of himself on Snapchat. The woman tried to put him off without offending him, joking, 'Ha ha, you're drunk.' Walk responded by streaming video of himself, laying in bed, the camera on his underwear and his hands down his pants, the woman said.

She quickly exited the app, saying she was staying with a friend and unable to meet the executive.

'I didn't work there anymore, which doesn't make it OK — but it does corroborate (Coopersmith's) story. Yes he is a person who does these things,' the woman said. 'At the same time I was so upset. Is this why I got laid off? Did I get laid off so you could ask me to sleep with you? That's how I felt. It's a very shitty feeling.'"
Read Coopersmith's full open letter here, and find more details about the second set of allegations here.