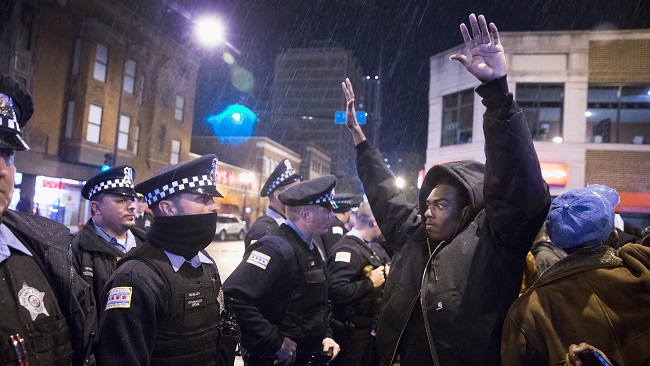 While the murder trial of Jason Van Dyke, the Chicago police officer who fatally shot Laquan McDonald in 2014, continues, the special prosecutor assigned to review the controversial nature of the event announced new charges on Tuesday. In a statement obtained by BuzzFeed News, Patricia Brown Holmes said current and former Chicago police officers David March, Joseph Walsh and Thomas Gaffney had each been charged with conspiracy, official misconduct and obstruction of justice for their efforts in what many believe was an attempt to cover-up the nature of McDonald's death.
"The indictment makes clear that these defendants did more than merely obey an official 'code of silence,'" said Holmes. "Rather it alleges that they lied about occurred to prevent independent criminal investigators from learning the truth." Said investigators ultimately charged Van Dyke with first-degree murder in 2015 following the release of a graphic clip in which the officer shot McDonald 16 times in the span of 15 seconds. McDonald was holding a knife at the time, but the video revealed he didn't approach the officers or throw the knife at Van Dyke, though they initially claimed he had.
Van Dyke pleaded non guilty to the charge of first-degree murder. How March, Walsh and Gaffney — whose collective time on the force amounts to at least 70 years — intend to plead remains unknown. The trio is scheduled to appear voluntarily at the Leighton Criminal Courthouse for their arraignment at 9am local time on July 10th.
Read the full statement below:
(Via BuzzFeed News)