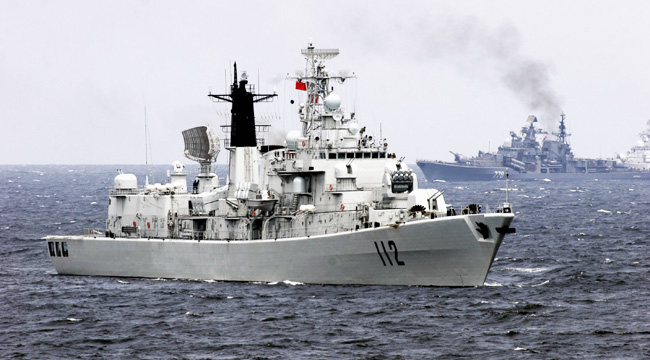 The Pentagon claims that a Chinese warship seized a U.S. Navy drone in international waters on Friday. Reuters describes the incident as "the first of its kind in recent memory," which follows a recent Chinese display of nuclear military force. That incident, of course, was a warning to Donald Trump after his phone call with Taiwan caused a diplomatic ruckus.
The unmanned glider was collecting unclassified data in the South China Sea as part of a lawful military survey. The USNS Bowditch, an oceanographic survey ship, was preparing to gather the drone when the Chinese ship scooped it up. Naturally, the U.S. is demanding the return of the glider, which was a sovereign immune vessel marked as U.S. property.
Pentagon spokesperson and Navy Capt. Jeff Davis spoke with the New York Times to reveal that China acknowledged U.S. radio messages but only provided an eerie response:
"It is ours. It's clearly marked as ours. We would like it back, and we would like this not to happen again," Davis told reporters.

Davis said the USNS Bowditch was stopped in the water when the Chinese ship approached. The two vessels were within about 500 yards of each other. He said the USNS Bowditch carries some small arms, but no shots were fired.

As the Chinese ship left with the drone, the Pentagon said, its only radio response to the U.S. vessel was, "We are returning to normal operations."
The seizure follows a U.S. think tank's recent satellite discovery of freshly installed Chinese weapons (both of the anti-aircraft and anti-missile variety) on seven contested artificial islands in the South China Sea.
(Via Reuters, New York Times & CNN)