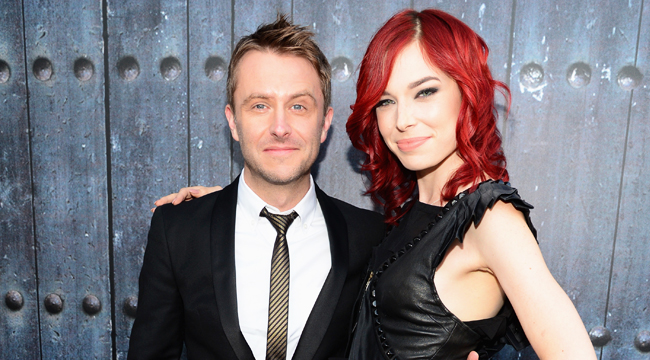 The Nerdist website has scrubbed all mention of founder Chris Hardwick, as announced by Legendary Entertainment on Friday. This move arrives amid allegations from actress and avid cosplayer Chloe Dykstra, who accused an unnamed ex-boyfriend of "long-term abuse" in an essay published on Medium. Hardwick and Dykstra dated for three years while she was in her early 20s, and from her description of this ex — "he grew from a mildly successful podcaster to a powerhouse CEO of his own company" — folks assumed this was Hardwick, who podcasts for AMC, currently hosts on NBC, and hosted Comedy Central's recently canceled @Midnight.
Hardwick has functioned as CEO of Nerdist Enterprises, although the company declared in February 2018 that he'd no longer been involved in day-to-day duties, but he still retained the CEO title, and "ChrisHardwick.com" still redirects to Nerdist.com. All of that might change soon with this Legendary Entertainment announcement via Hollywood Reporter:
"Chris Hardwick had no operational involvement with Nerdist for the two years preceding the expiration of his contract in December 2017. He no longer has any affiliation with Legendary Digital Networks. The company has removed all reference to Mr. Hardwick even as the original Founder of Nerdist pending further investigation."
As mentioned above, Legendary Entertainment is investigating the claims from Dykstra, who alleged years of abuse from the ex-boyfriend, who she met at a convention. He was around 15 years older at the time, and, as time wore on, she explains that her self-worth plummeted. He allegedly alienated her from friends (especially men), prohibited her from drinking alcohol, and ordered her to remain in a hotel room while he attended SDCC. Dykstra says that the abuse was not only emotional but also sexual in nature:
How did this happen? At the beginning of our relationship, I was quite ill often due to my diet, something I'll get to in a bit. One night he initiated, and I said, "I'm so sorry, can we not tonight? I'm feeling really sick." He responded,""I just want to remind you, the reason my last relationship didn't work out was because of the lack of sex." It was a veiled threat. I succumbed.

Every night, I laid there for him, occasionally in tears. He called it "starfishing". He thought the whole idea was funny. To be fair, I did go along with it out of fear of losing him. I'm still recovering from being sexually used (not in a super fun way) for three years.
Dykstra, who says that she developed anorexia as a result of anxiety during the relationship, then accuses her ex of blacklisting her at age 25, when she left him. Her essay also includes a discussion of the #MeToo movement, which inspired her to come forward after more than a dozen attempts over the years (she's almost 30). Dykstra says that she ultimately wants "closure" but also to let other women know that emotional abuse is often overlooked and very common. Hours after her Medium post went viral, Dykstra thanked her supporters in a tweet.
UPDATE #1 – 4:15pm EST: Nerdist has tweeted a statement that stresses how "shocked we were to read the news this morning." The site condemned the behavior described in Dykstra's allegations and included phone numbers to sexual-abuse crisis hotlines.
UPDATE #2 – 5:00 pm EST: Dykstra has tweeted again to express her wishes that Nerdist will not be negatively affected by her essay.